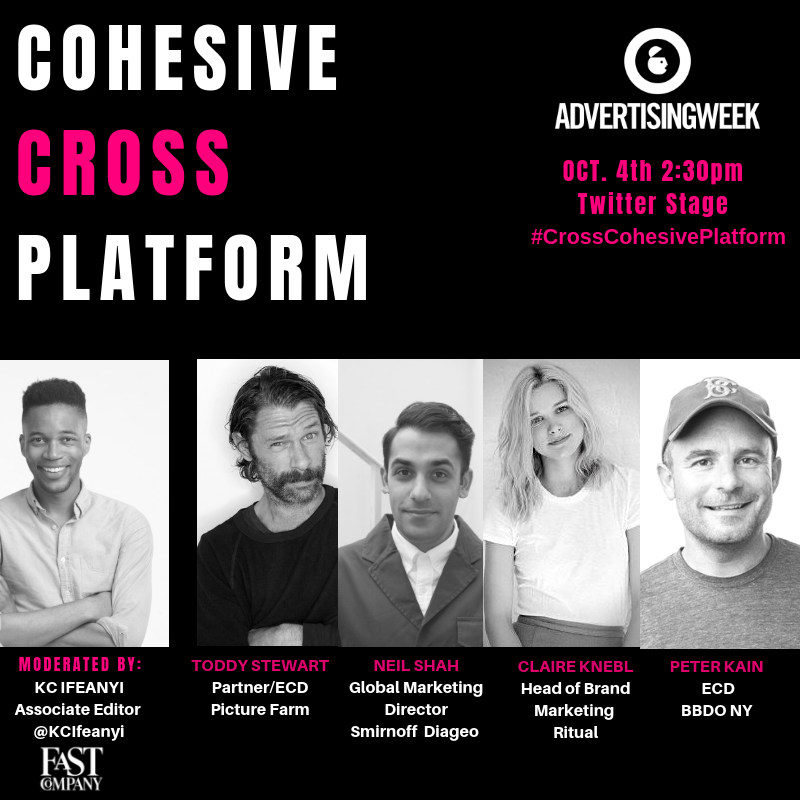 A panel of industry leaders across brands, agencies, media and production will speak on an engaging panel during the much-anticipated Advertising Week New York this Thursday, October 4 at 2:30 P.M. ET. The panel will discuss how to craft engaging content across multiple platforms, keeping projects engaging and fit for multiple platforms, enhancing brand messaging in the process.
Moderated by Fast Company's KC Ifeanyi, Picture Farm ECD and founder Toddy Stewart will present the discussion alongside panelists including BBDO NY ECD Peter Kain, Ritual Head of Brand Marketing Claire Knebl and Diageo Global Marketing Director for Smirnoff Neil Shah.
Picture Farm is an integrated production company with a truly dynamic outlook on production and post. Utilizing creative collaborations and partnerships alongside their roster of diverse talent, they have worked with a wide range of top brands such as Nike, Hyatt, Laura Mercier, Converse, Estee Lauder, Mercedes-Benz, ESPN, Mountain Dew, Chanel and Kate Spade.
Ream more about the panel and attend HERE.