Strategic creative group ATK PLN has teamed up with the Arlington Convention & Visitors Bureau and PETER A MAYER to unveil the kaleidoscopic possibilities of adventure, entertainment and family memories awaiting in the Dallas-adjacent city in a new animated short film "Arli & the World of Wonderful." Through dazzling animation and a relatable family's narrative, ATK PLN highlights the best of what Arlington has to offer for travelers and families looking for a getaway. Creative Director Barrett Lewis and CG Supervisor Patton Tunstall led a team of in-house artists to craft the 3D animation for the short film. The short brings a vibrant, colorful new life to some of Arlington's beloved and long-standing attractions, including AT&T Stadium, Globe Life Park, Six Flags Over Texas, as well as a lineup of top restaurants and breweries.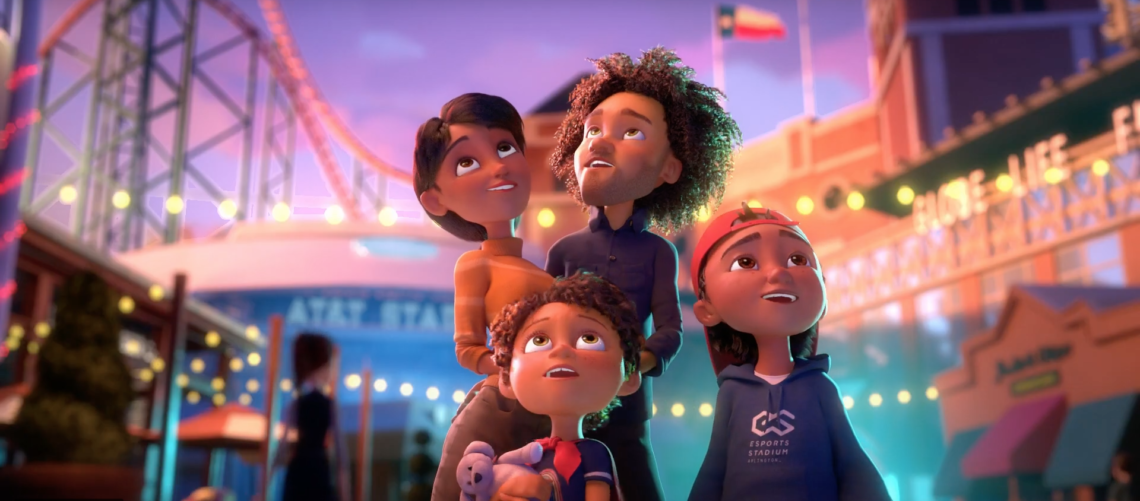 The animated short film centers around a family hailing from the town of "Blandville." True to its name, the town offers little in the way of excitement or entertainment, unveiled by a series of vignettes of failed attempts at fun: a young sister and brother solemnly idle away an afternoon in their driveway, their mother attempts to sell homemade craft brews at a local outlet with no success, and their father's new recipe attempt literally goes up in smoke. By happy chance, the daughter comes across a flyer for Arlington, and her family's life in Blandville transitions into an exciting metropolitan vacation. From zealous sports stadiums and picturesque theme parks to tender family moments at a restaurant, ATK PLN's animation seamlessly transitions from one scene to the next, accentuating the gift of memorable experiences which Arlington strives to share with its visitors.
In addition to directing the animation for the short, Lewis also composed the original score. His background in delivering these dual disciplines shines through in this piece, heightening the cinematic quality with a cohesive fusion of narrative and soundtrack. This boutique approach, fused with the infrastructure of ATK PLN's sister company, Golden Globe-nominated animation studio Reel FX, allows the shop to deliver brand clients a feature film-quality production with a hands-on, collaborative experience.
Notes Lewis, "Arlington truly is a world of wonderful. It's an unexpected playground of spontaneity and excitement, and for the Wonderfuls family it provides a weekend of fun away from life's obligations. We wanted a story that doesn't tell you the story but SHOWS you the magic of Arlington."
CREDITS:
Client: Arlington Convention & Visitors Bureau
Agency: Peter A Mayer
Executive Creative Director: Desmond LaVelle
Creative Directors: Jason Otis, Richard Landry
Art Directors: Ian Rousey, Rebecca Hollis
Broadcast Producer: Alexis Vicknair
Chief Strategy Officer: Michelle Edelman
Brand Strategist: Eric Camardelle
Director of Account Management: David Crane
Account Leads: Alex Noto, Lauren Wegmann
Animation: ATK PLN
Executive Producer: Marvin Robinson
Producer: Justin Skerpan
Creative Director: Barrett Lewis
CG Supervisor: Patton Tunstall
Technical Supervisor: Jon Speer
Concept Artists: Ruby Wang, Mark Whiting
Chalk Illustration – Vivien Bates
Design: Fred Gardner, Edwardian Taylor
Modeling: Ramahan Faulk, Drew Daleo, Daniel Ries
Surfacing: Daniel Ries, Josselin Gailly, Tmothe Claeys
Rigging: Doug Bell, Andrew Conroy, Bowen Deng, Evan Perret, Maxime Lecompte, Osvaldo Tapia Guerrero
CFX Artist: Monika Salter, Rawan Alhosani
Animation: Jason Taylor, Dorian Soto, Don Dixon
FX: Gabriel Martin, Chad Moseley
Cloth Simulation: Maria Poza
Light/Compositing: Lyn Caudle, Jeff Masters, Shannon Thomas, Michael Zollinger
Motion Design: Chad Moseley
Flame Artist: Mike Roy, Laychin Lee
Audio Engineer: Frank Pittenger
Musical Score: Barrett Lewis
Editor: Chris Collins
Edit Assist: Steven Happel
About ATK PLN
ATK PLN is a strategic creative group positioned firmly at the intersection of design, live action and animation. They fuse design-driven visuals with feature film finesse, telling stories on screens of all sizes. ATK PLN's work entertains, elicits emotion and elevates brand success for their partners.
ATK PLN provides agencies, studios and brands with the unique experience of partnering with a feature-level animation studio combined with a boutique sensibility and optimized workflow. Flexing its creative prowess across theatrical and television spots, billboards, print and broadcast graphics, ATK PLN's roster of talent applies a meticulous eye for design to craft memorable, entertaining campaigns.