FANDUEL: SPORTS EQUINOX BY BBH NY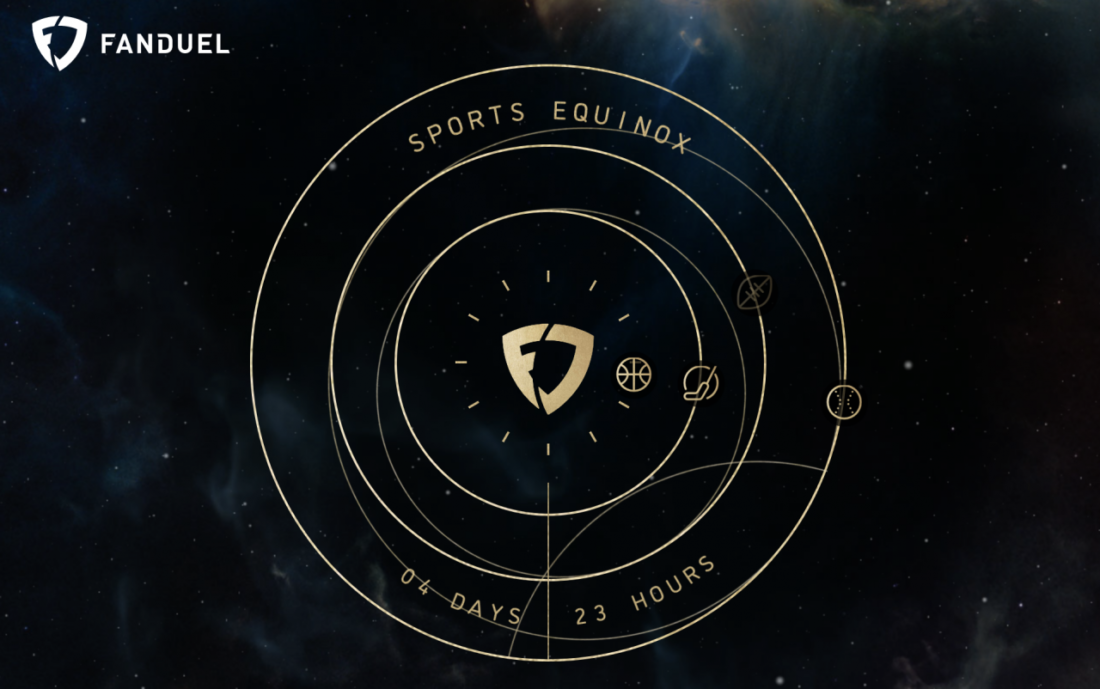 A Sports Equinox occurs when four major sports (NBA, NHL, MLB and NFL) all play a game on the same day. A rare alignment of sports, a Sports Equinox has only happened 18 other times in recorded sports history, and FanDuel is celebrating the momentous occasion.
The new campaign from BBH New York for FanDuel honors this special day in sports and treats it as a blessing from the sports gods. Building off FanDuel's recent 'More Ways to Win' campaign, the new FanDuel Sports Equinox will offer fans a 24hour period with the most ways to win. BBH and FanDuel have worked side-by-side to create a bespoke contest experience within the FanDuel app, TV commercials, out-of-home projections, stunts, custom AR Face Filters for Instagram and even a fully-functional, data-powered, Sports Equinox clock counting down to the momentous day.
A 30-second spot features an otherworldly Sports Equinox clock with four rings that lock into place when a Sports Equinox is imminent. At the end of the spot, fans are directed to Sports-Equinox.com where fans are given access to a digital version of the Sports Equinox clock which uses live sports data to predict when the four sports align in all their glory.
The Sports Equinox campaign is also integrated into the FanDuel app and site. The team at FanDuel created a special free-to-play Sports Equinox contest just for this day. Fans will have a shot at more than $270,000 in payouts to partake in the bounty this glorious day offers.
In the spot, the choir sings "Four sportsss…! One dayyyy!" as each sport icon aligns and locks into place. After the contest prize details are revealed (over $270,000), the choir sings once more, "That's a lot of moneyyyyyy…!"
BBH and FanDuel also created a series of pre-launch TV teasers that hijacked existing FanDuel ads from the recent 'More Ways To Win' campaign. These spots were "interrupted" with five seconds of the mysterious Sports Equinox clock, along with a choir singing about Sports Equinox. Additional activations are underway in the form of stunts and partnerships, such as a roving Sports Equinox choir appearing at sports venues, a billboard in Times Square, projections, social actions and custom merchandise.
Credits
Agency BBH NY
Chief Creative Officer: Gerard Caputo
Associate Creative Director: Van Gould
Associate Creative Director: Chris Sheldon
Head of Design: David Trumpf
Senior Art Director: Mussashi Shintaku
Designer: Nicholas Lucaccioni
Head of Account Management: Alex Monger
Account Director: Shana Honig Horowitz
Account Manager: Cris Flores
Senior Strategist: Philip Shipley
Comms Planner: Chris Wiegand
Head of Production: Brooke Kaylor
Content Producer: Meg Volk
Executive Producer: Lauren Fertitta
Senior Producer: Taylor Hills
Creative Director: Black Sheep Studios Jim Schwartz
Supervising Producer: Black Sheep Studios Marc Baill
Motion Designer: Black Sheep Studios Roman Micevic
Sound Designer: Black Sheep Studios Kevin Hastings
Solution Architect: Andrés Bonilla
Director of Business Affairs: Librado Sanchez
Project Director: Adam Taverniti
Client FanDuel
Chief Marketing Officer: Mike Raffensperger
Executive Creative Director: Steven Giraldi
VP Communications & Brand Strategy: Simon Kennedy
VP Integrated & Product Marketing: Kelley Walker
Associate Creative Directors: Keith Wasser, Edgar Gallardo
Director of Project Management: Kelsie Wenzel
Director of Integrated Marketing: AJ Mazza
Production Company: Zoic
Creative Director: Julien Brami
Art Director: Sean Starkweather
Executive Producer: Jason Cohon
Producer: Derek W. Johnson
Previs Artist: Lochlon Johnston
FX Artist: Ron Johnson
Modeler: Shamus McGlynn
Music : Butter Music Berlin
Read the original piece here.