P&G Fabric care brand Ariel and Publicis Brasil teamed up with bi-coastal production company Honor Society director Juliana Curi to take on daily gender inequality in the home in a timely new campaign, produced by FAUNA in Brazil. The spot challenges stereotypical household narratives and invites the next generation of homeowners to change the way they allocate chores. Where laundry has been categorized in the past as "women's work," Ariel says it's time to change. Curi helms a powerful, yet relatable ode to modern love, showcasing Ariel as a brand that celebrates diversity and calls on people of all genders and sexualities to lend a hand while doing the laundry.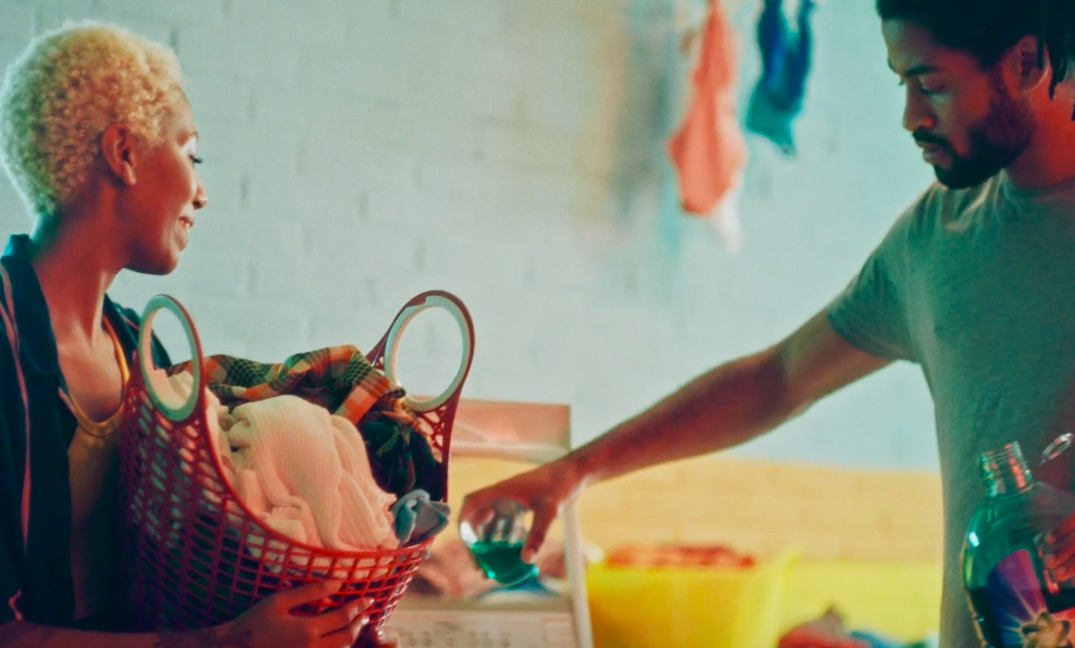 With an established visual specialty on gender exploration and the representation of the female figure in modern media, Curi was an evident choice for this bold social stance of Ariel in the Brazilian market. She worked closely with the agency and brand to ensure that the cast was inclusive in terms of gender, age, race and sexual orientation. The final video fuses natural performances with a stylized exploration of mixed media, resulting in an authentically contemporary tone.
The spot, titled "#Sharing Makes Us Better" takes viewers on an expedition of intimate glimpses into the lives of young couples, from tender moments in bed and at the dinner table to close-up shots of women left to wash sheets and clean plates on their own. A statistic flashes on the screen: "70 percent of couples don't share any household chores." Afterward, we see vignettes of men assisting their partners in the laundromat and hanging clothes to dry on the line, confronting antiquated gender roles and normalizing chores as an equal responsibility in the home. The spot ends with a call to action: "All men, all women, all of us."
"With so much progress in the feminist movement, we now have more space to discuss smaller, but necessary, aspects of the agenda," notes Curi. "Women are still taking on a much greater mental load when it comes to household tasks and I hope that this spot ignites discussion surrounding how despite surges in female empowerment in the public spheres, patriarchal structures are still prevalent in the home."
Credits:
Client: P&GProduct: Ariel
Agency: Publicis Brasil
CCO: Domenico Massareto
Executive Creative Director: Gustavo Victorino
Creative Director: Luis Figueiredo
Associate Creative Director: Leandro Hermann
Copywriter: Giovani Baggio
Art Directors: Rodrigo Panachão, Carolina Marques
Account: Flávia Cortes, Maria Fernanda Laudisio, Giuliana Macedo, Andrea Carneiro, Kamila Miyazato, Gabriela João, Mayara Mascimento
Planners: Silvia Mello, Ileana Millan
Media: Garcieli Beraldi, Gabriela Nose, Tais Frasson, Vitor Lopes
Producers: Michele Pavão, Barbara Emery
Production Company: FAUNA
Director: Juliana Curi
EP and FAUNA CEO: Patrick Petry
Executive Producer: Tize Novaes
Production: Melinha Lobo
Editor: Dani Guimarães
DOP: Fernando Bertolucii
Production Design: Ana Henriques
Post Productions: Rafael Malavasi, Raphael Bonato
Motion: Rafael Fernandes
Color Grading: Psycho n'Look
Music: Fabio Smeili + Lua Nova
About Honor Society
Honor Society is a fully integrated production company telling stories with passion, bravery, and intelligence, no matter the style, technique or medium.