New Series Brings Immersive Element to Gaming Celebration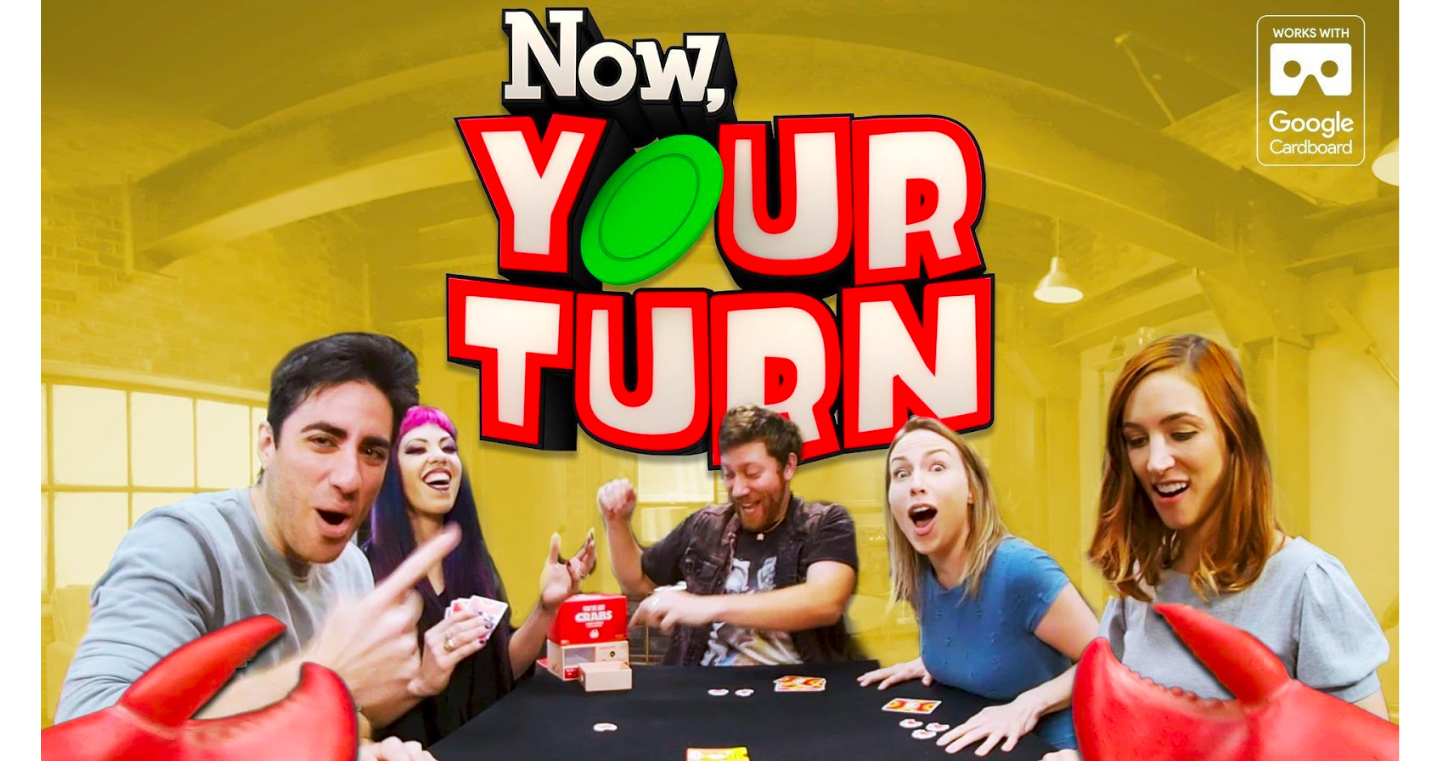 Hollywood-based virtual reality (VR) studio Light Sail VR debuts its VR180 series "Now Your Turn" with Geek & Sundry, in collaboration with Google's Daydream team, and transports viewers into the ultimate board game showdowns for Geek & Sundry's 7th annual International Tabletop Day. Every episode of "Now Your Turn" features different board games and Geek & Sundry personalities including Ivan Van Norman, Becca Scott and many more. New episodes of "Now Your Turn" are slated to launch every Friday leading up to the day-long celebration on April 28th. The VR series debuts with a five-minute episode,"You've Got Crabs," which gives viewers a virtual seat at the table as they take on the perspective of an oversized crab and jump into the action of Exploding Kittens' party board game You Got Crabs.  
Every episode of "Now Your Turn" will be available for VR cardboard headsets on Geek & Sundry's YouTube channel, which boasts 1.7 million subscribers. It will also be available via the YouTube VR app usingGoogle Daydream View headset. In honor of International Tabletop Day, "Now Your Turn" episodes feature games that add a fun twist to traditional board games. Upcoming games include Crafty Games' Nosh, Gigamic Games' Yogi, and Renegade's Topiary, among others.
Click HERE to view "You Got Crabs" on a VR headset via Geek & Sundry's YouTube.
"We wanted to find the best, most creative way to showcase VR 180 and strongly felt that a board gaming show would be a great fit for the medium," Notes Light Sail VR Co-founder and Executive Producer Robert Watts. "Rather than simply watching a live game, the viewer has the opportunity to sit across their favorite Geek & Sundry hosts and feel like they are playing the games with them!"
Adds Geek & Sundry's Ivan Van Norman, Host and Executive Producer of International Tabletop Day 2018, "Each year, our team strives to take the gaming experience to the next level for our community. Partnering with Light Sail VR provides us with the opportunity to connect with fellow gamers in an immersive way and engage with a wider audience."
International Tabletop Day (ITTD), the worldwide celebration of tabletop gaming and its community orchestrated by Geek & Sundry, is the first and only holiday of its kind dedicated to board games. The day-long event brings together hundreds of thousands of gamers around the world through live gaming events, charity fundraising and collaborative online entertainment. The VR experiences that coincide with ITTD aim to transport viewers into the fun, excitement and memory building that happens when playing board games with others. Learn more about International Tabletop Day at tabletopday.com
Credits:
Production Company: Light Sail VR
Director: Matthew Celia
Producer: Robert Watts
Cast:
Ivan Van Norman
Becca Scott
Satine Phoenix
Kate Elliott
Leo Camacho
Vince Caso
Meow Misti Dawn
Rachel Amanda Bryant
Havana Mahoney
Jovenshire
Alison Haislip
About Light Sail VR
Light Sail VR is a Hollywood-based VR production company taking the helm of the evolving field of cinematic virtual reality storytelling. At the entertainment-savvy studio, creative producers and 360 writer-directors collaborate on live-action experiences, bringing compelling narratives, dynamic characters and entrancing visuals to every kind of VR project. From powerful original content to high-profile branded pieces for the likes of Google, ABC, GoPro and Paramount, Light Sail VR's work captivates audiences and garners millions of views on the web.
Experts in this emerging technology, Light Sail VR continues to steer new ways to capitalize on VR's ability to inspire, innovate and engage.
About Geek & Sundry
Geek & Sundry is a digital entertainment company recognized for providing the best in award-winning Internet television content featuring leading voices in geek culture and lifestyle. Founded in 2012 by Felicia Day, the company offers a diverse content lineup of video games and tabletop gaming, such as Wil Wheaton's TableTop, and explores the verticals of comics, music, literature, comedy and beyond. The network has also launched GnSLive, which provides of 30 hours of live content every week. Geek & Sundry is owned by Legendary Entertainment and is part of the Legendary Digital Networks, which also includes Nerdist and Amy Poehler's Smart Girls. Visit Geek & Sundry at www.geekandsundry.com