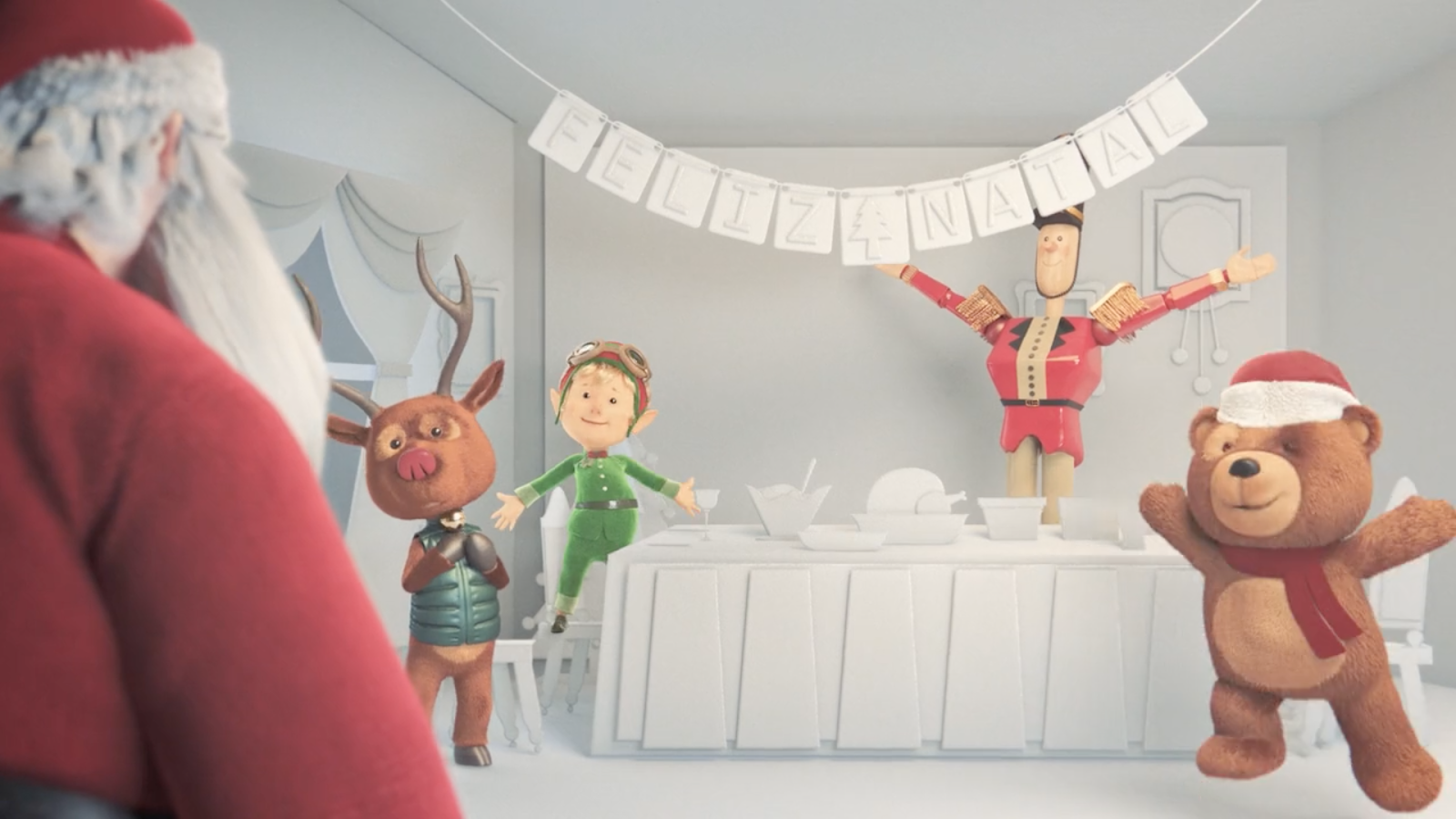 Conceived by Ampfy agency, the campaign is inspired by paper crafts and features a new version of a classic Holiday song
To celebrate Christmas, the most festive and joyful time of the year, when people are inspired to get together and share their feelings, Iguatemi shopping mall chain launches a new campaign focused on the importance of having those moments with friends and relatives. Referencing the familial aspect of the season, the campaign puts forward the question: who could be Santa Claus' Christmas Eve companion?

Conceived by Ampfy agency, the film reinforces Iguatemi's brand positioning that presents their malls as "settings for remembrance". The visual language employed was based on paper crafts, produced with 3D CG with touches of motion graphics, with the animation showing the characters giving Christmas color and life.

"We began to wonder what would Santa's own Christmas Eve be like. After a long day delivering presents all around the world, would he come home to find no one waiting to share Christmas dinner with him, like all the families he saw along the way?", says Ampfy's partner and Creative VP Fred Siqueira. "With a whistle, we bring several characters from Christmas tales over to celebrate together with Santa Claus".

For the soundtrack, an exclusive version of the classic song, Auld Lang Syne was recorded by American singer-songwriter Elizabeth Ziman. Brazilian multi-instrumentalist Milton Guedes – who's played with renowned local acts like Caetano Veloso, Gilberto Gil, Rita Lee and Roberto Carlos – is the man behind Santa's whistle, a sound motif that ties the film together.

"Christmas is very important to us. Iguatemi works every day to make each and every one of its malls a place for excellent shopping and leisure, especially this time of the year. With this campaign we intend to strengthen that positioning and get even closer to the consumer", says the company's Marketing and Sales VP Marcelo Miranda.

Credits:
Agency: Ampfy
Client: Iguatemi
Campaign: Iguatemi Christmas
CEO: Pedro Cabral
President: André Chueri
CCO: Fred Siqueira
ECD: Alexandre Nego Lee
Creative Director: Rodrigo Marangoni
Creative: Nego Lee, Fred Siqueira, Rodrigo Marangoni, Daniel Di Pompo,
Stéphanie Zampollo, Lucas Chinen and Fabiana Vieira.
Social Media: Murilo Vasconcelos, Raquel Rodrigues and Beatriz Harumi.
Client Services: Camila Patrick, Luisa Franchi and Evelina Rios
Media Director: Sergio Brotto
Media: Ester Ribeiro, Juliana Aoki, Andreia Passos
RTVC: Luiza Pagliarini, Francine Aoki, Aurélio Ribeiro and Augusto Romeo
Production Company: Vetor Zero
Director: Gabriel Nóbrega
Executive Producers: Alberto Lopes and Sérgio Salles
Client Services: Camila Carrieri, Márcia Guimarães, Thais Lopes
Animation, finishing and e post-production: Vetor Zero team
Audio Production Company: Quiet City Music+Sound
Music Producer: Chris Jordão and Darren Solomon
Client Services: Xanna D'aguiar and Karina Vadasz
Client Approval: Marcelo Miranda, Alexandre Biancamano, Maria Luisa
Mertens and Carla Pimentel Libanori