ADVERTISING
Walmart Built a Striking Ad Around an Associate's Lyrical Covid Poem
Terrell 'Trizz' Myles performs 'Hearts of Magic'
By David Gianatasio
Before the pandemic, Terrell "Trizz" Myles never dreamed Walmart would film him reciting his rhymes at the company's store in San Tan Valley, Ariz., where he works as a department manager.
But a few weeks ago, Myles submitted his inspirational piece "Hearts of Magic" to an internal call for poetry about persevering through the Covid-19 crisis. A short time later, the 21-year-old budding author and lyricist found himself in the aisles, after hours, making a video that debuted this week on Walmart's YouTube channel.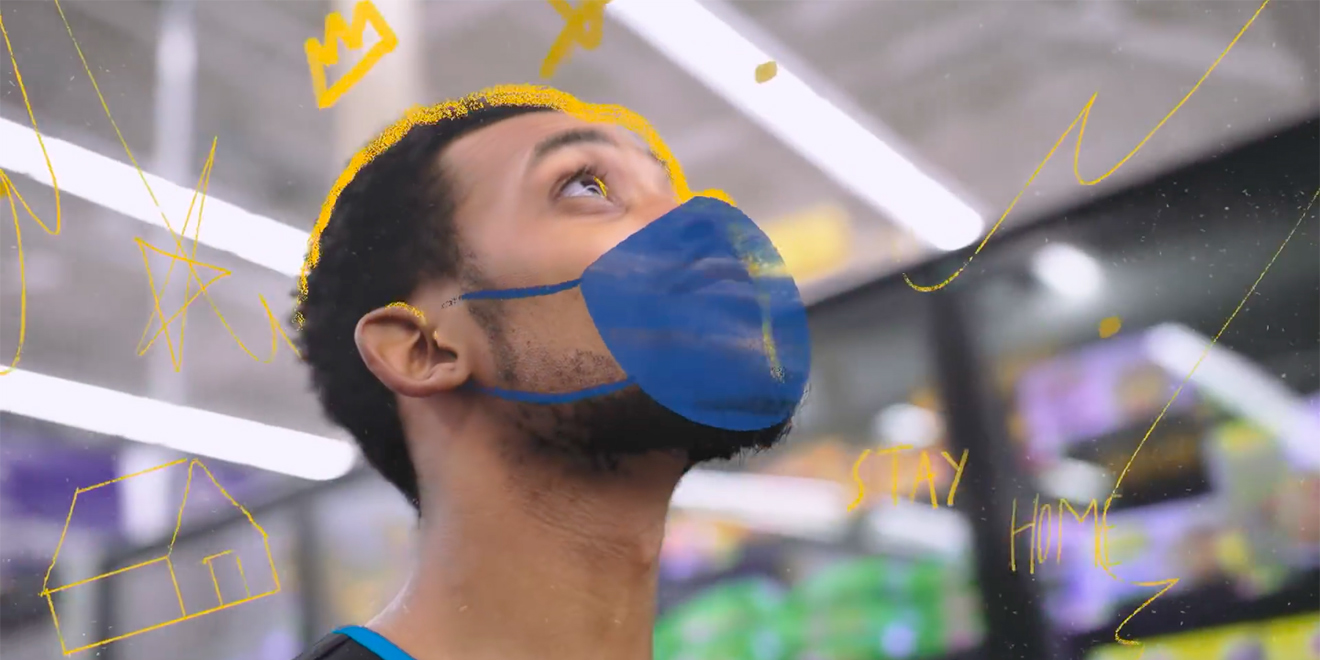 His rapid-fire verses convey hope with a hip-hop flair in lines such as:
Together, I know that we have a fighting chance
Socially distant, but mentally, we're holding hands
In this together whatever endeavor—we will treasure the better times
And recognize that we are an important part in each other's lives.
Walmart developed the project with ad shop FCB, production house LOBO and audio firm Man Made Music.
"Trizz's poem stood out and inspired us to elevate his words by producing this video," a Walmart rep tells Muse. "By showcasing the special talents of our amazing associates, we hope to spark that same inspiration we are feeling each day in others to stay positive."
In a post on the OneWalmart blog, Myles explains that he strove to deliver a positive message. "I wanted to shift gears and talk about how our lives were great and are going to be great in the future," he says.
To film "Hearts of Magic," the company dispatched Myles and a small crew wearing personal protective gear to Store 3751, which had closed for its nightly cleaning. The video's production team gave instructions remotely via Zoom.
"I wanted it to be something that no matter where you were in the world, no matter where you worked, no matter what your situation was—you could feel what I was saying," Myles says.
Other initiatives featuring Walmart associates include this recent "Lean on Me" spot from March. The company also encourages participation in its rap and a capella groups for associates.
Walmart has seen sales soar during the pandemic, and it recently expanded the types of coronavirus testing it offers to the public. Like many of its big-box brethren, the chain stepped up safety efforts for customers and employees while also paying cash bonuses to hourly associates (they're essential workers, after all). On the downside, two Walmarts in Massachusetts grabbed headlines as Covid hot spots. (The Worcester, Mass., location was the first U.S. store forcibly closed by public officials owing to an outbreak.)
Here's the complete "Hearts of Magic" text:
In times of darkness the sun still shines regardless
And I think that that's a reminder…that light will always harness
The power to break through fear
Dry tears
Right here
Our home
stays home
if we all just stay home
And cherish all the memories
And dreams left to fulfill
This one message that will
Reach cashiers at the till
Reach those stocking the shelves
Reach those asking for help
We play the cards we've been dealt…
But together I know that we have a betting chance
Socially distance but mentally we're holding hands
In this together whatever endeavor we will treasure the better times
And recognize that we are an important part in each other's lives
As I send this message to men women and children
This world is our home so we all should care for the building
The storm is raging on but sun shines after a blizzard
I'm a Walmart Whizard an associate with heart of magic
Like all my Walmart family together we make it happen
Live better together, together let's make it happen
CREDITS
FCB – Creative Agency
Global CCO: Susan Credle
CCO: Andrés Ordoñez
SVP, ECD: Avi Pinchevsky
VP, CD: Tor Lemhag
CD: Justin Enderstein
Art Director: Dwight Williams
Copywriter: Andrew Wernette
EVP, Director of Production North America: Kerry Hill
VP, Directors of Production: Joe Tipre & Lindsay Tyler
Executive Producer: Stacy Miller
Sr. Producer: Carolina Velez
EP, Director of Music: Stump Mahoney
Director, Project Management: Kristin Oberg
Sr. Project Manager: David Leverentz
EVP, Group Management Director: Antoniette Wico
SVP, Management Director: C.J. Nielsen
Account Supervisor: Michael Fox
EVP, Group Dir Strategic Planning: Jennifer Chiang
VP, Strategy Director: Nancy Khurana
Sr. Strategic Planner: Chelsea Ferguson
VP, Director of Business Affairs: Jeff Cowie
Lobo – Production Co., Edit & Animation
Executive Producer: Luis Ribeiro
Director: Mateus Santos
Head of Production: Clara Morelli
Producer: Aron Aguiar / Marcelo Barbosa
Art Director: Bruna Imai
Concept artists: Bruna Imai / Daniel 3D / Bruno Ferrari / Fabiano Broki
Director of Photography: Erin Collett
Line Producer: Paul Amorese
Editing: Pedro Falcone
Lead Animator: Fabiano Broki
2D Animation: Chan Tong
Compositing: Fabiano Broki / Leandro Pena / Narayane Andrade
Motion Design: Fabiano Broki / Bruno Ferrari / Daniel 3D
Rotoscope: Isabela Ferrari / Leandro Pena / Leonardo Augusto / Diego Ruiz
Color grading: Letícia Blanco
Coordinators: Clara Morelli / Rosangela Gomes
IT: Matheus Rodrigues
Asset managers: Marcos Tavares / Isabela Balbo / Fabio Augusto
Music – Man Made Music
Composers Amy Crawford & Joel Beckerman
Read the original article HERE.