O2 Puts Customers Centre Stage in Moonlit Spot
Users are the headline act in campaign from VCCP and Park Pictures' Georgia Hudson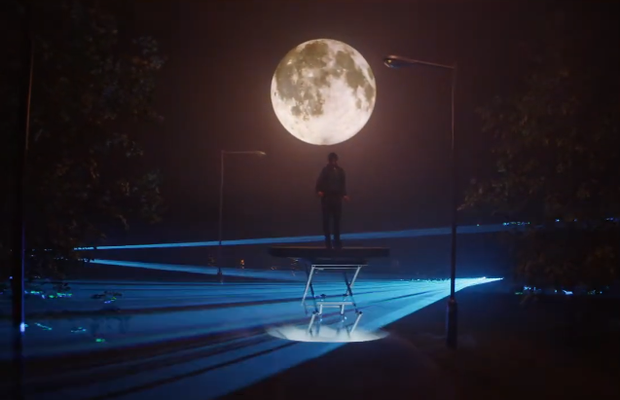 O2 today launches a brand-new, fully integrated, advertising campaign, focussed on putting customers centre stage. Building on its rich heritage in music and live experiences, the campaign is set show how customers are the headline act, highlighting all exclusive perks and benefits of being on O2.
Set to the track 'Light' by Michael Kiwanuka, the advert follows a customer walking through a park, when his old phone dies and, suddenly, everything changes. An amazing show begins to take shape around him – with dramatic lighting, lasers shooting out of cars, and a stage rising up beneath him as he experiences a moment where he is in the spotlight, where he is the headline act. Finally, he leaps from the stage back to the ground and we return to normality. Except, now he has a brand new, shiny phone in his hand thanks to O2 custom plans.
O2's revolutionary O2 custom plans put customers in control of their tariff, helping them get the phone they really want at a price that suits their budget. With the ability choose how much they want to pay upfront, the choice length of their device plan, and being able to select anywhere between 3 and 36 months (in one-month increments), O2's custom plans also offer customers the option to flex their data allowance up or down every month to suit their needs.
The 30 second spot will air for the first time on TV this Saturday during Ant and Dec's Saturday Night Takeaway, as well as popular films Central Intelligence on Channel 4 and Daddy's Home on Film4.
In addition to TV, the creative will appear across a wide selection of out of home sites across the UK, as well as on video on demand, press, radio, and with a bespoke experience on Spotify. The campaign will also be supported through O2's social media channels which will also include a European first in the form of interactive, playable social ads on Facebook which will enable users to see how they could flex their tariff and afford the phone they want with O2 custom plans.
"We're a brand that's built around our customers and that's why we're excited to launch this new campaign that brings to life that special feeling of what it's like to be with O2" said Nina Bibby, CMO, O2. "This year marks the 18th birthday of the O2 brand and as the UK's No.1 network with industry leading levels of loyalty this campaign really demonstrates how customers continue to be our headline act."
CLIENT
HEAD OF MEDIA & CREATIVE: Simon Valcarcel
CREATIVE
AGENCY: VCCP
JOHNNY WINN: Senior Creative & Media Manager
DOMINIC SMITH: Creative & Media Executive
EXECUTIVE CREATIVE DIRECTOR: Darren Bailes
CREATIVE DIRECTOR: Jim Capp
CREATIVE: Sam Sword
CREATIVE: Harry Osborne
BUSINESS DIRECTOR: Sonia Gilchrist
ACCOUNT DIRECTOR: Emma Harvey
PLANNING: Max MacBeath
DESIGNER: Adam Edwards / Jessica Steimer
AGENCY CREATIVE PRODUCER: Yasmin Akhavan
AGENCY TV PRODUCER: Edmund Thorn
PHOTOGRAPHER: Rick Guest
PHOTOGRAPHER'S AGENCY: EAST Photographic
MEDIA AGENCY: Havas Media
MEDIA PLANNER: Rachel Fletcher
PRODUCTION
PRODUCTION COMPANY: Park Pictures
DIRECTOR: Georgia Hudson
PRODUCTION COMPANY PRODUCER: Jane Lloyd
DOP: Ben Fordesman
AUDIO POST PRODUCTION: Sam Ashwell – 750mph
POST PRODUCTION: Time Based Arts
POST PRODUCER: Jo Gutteridge
Read the original piece here.