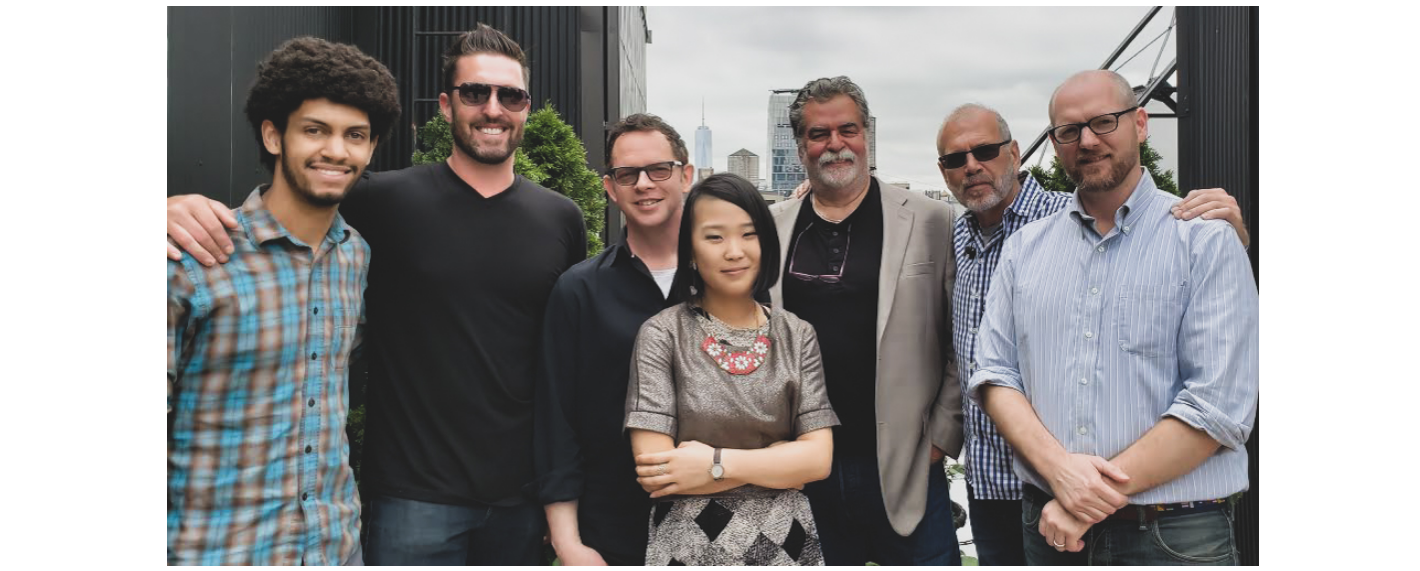 L-R: Nat Jenkins, Michael Levesque Jr., Evan Spear, Hanna Choi, Michael Levesque Sr., Jerry Plotkin, Stephen Schmidt
NYC-based audio post production studio PLUSHnyc is expanding its team, bringing veteran audio and music shop Headroom to its roster. The expanded company will operate under the Plush banner. Headroom's Composer/Producer Jerry Plotkin will join the team, along with Mixer/Sound Designer Evan Spear and Producer Hanna Choi, and will add their slate of clients to Plush's robust lineup of long-term clients across advertising, television, film, and beyond. With the addition of Headroom's talent, Plush will continue to bring its audio and video innovation to a rapidly changing industry, working with agencies as well as direct-to-client. In addition to traditional media, for example, Plush is actively producing audio for newly emerged platforms such as VR, including immersive audio for the Broadway show "Charlie and the Chocolate Factory, The New Musical," an interactive mobile experience for Netflix's "13 Reasons Why", and a benefit VR experience for the Cerebral Palsy Foundation. This growth will position Plush to continue to allow the company to increase its services and partner with an expanding list of clients in both new and existing industries.
Notes Plush President/Composer Mike Levesque Sr., "Bringing Jerry and his Headroom team under our roof at Plush means that we can amplify our offerings, allowing us to focus on the work and continue to expand our talent and capabilities to better serve our clients."
Adds Plotkin, "We are thrilled to be joining up with Mike and the Plush team.  Our two organizations hold the same values, including an unwavering commitment to excellence. We couldn't have found a better fit and we look forward to bringing the best of Headroom to Plush–and the best of Plush to our clients."
Recent projects out of Plush include a spot for JetBlue, directed by and starring Spike Lee and a powerful Kesha short film, "I Need a Woman to Love" that features the popstar officiating a wedding as part of the Universal Love project from MGM Resorts, out of McCann NY.  Recent projects out of Headroom include audio post for Google, P&G, GE, Clinique, and original compositions for Ford and Pfizer.
About Plush
PLUSHnyc is a boutique audio post production studio located in Manhattan's historic Flatiron district, with multiple 5.1 surround mixing suites that include the latest Pro Tools HD systems designed to meet the needs of any audio project. Plush's senior sound designer/mixers include Rob Fielack, Michael Levesque, Eddie Cooper, Matt Giordano, Carl Mandelbaum, Nick Montgomery, Bobby Sorrentino, and sound designer/mixer Danny Irizarry, Nicole Pettigrew, and John Nathans.  Their staff has garnered multiple Cannes Lion, Emmy, Telly, Mercury, Clio, and other industry awards.
In addition to post production record and mixing, Plush offers sound design, casting, stock music, original music, and superior client services.