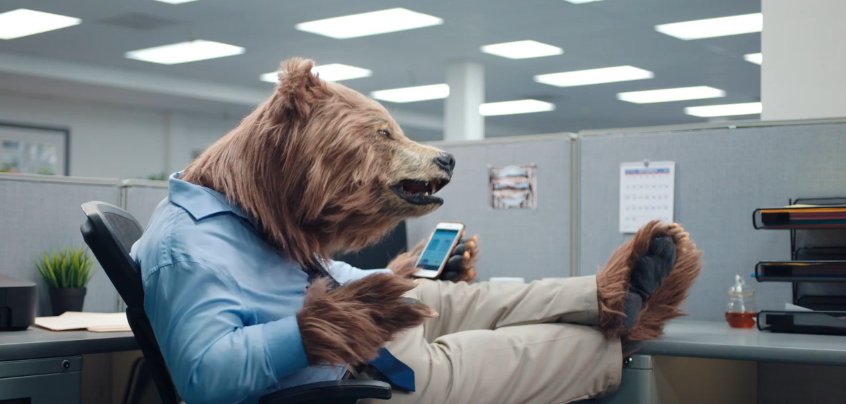 Venice Beach-based production company Rodeo Show directing duo Mccoy | Meyer help an "8-foot, 600 lb" bear find perfect fitted custom clothes for the fashion technology startup, MTailor, created direct-to-client as a part of a their new branding campaign. The campaign features the :60 "Business Bear" that showcases the duo's subtle and witty comedic styling with an entertaining narrative that follows an animatronic bear, "Barry," as he battles the woes of not fitting in to a standard office environment. Feeling out of place, he embarks on a quest to find the most suitable fit for his unique body shape. The bear finally finds MTailor, using the app to get measured right on his phone to get custom clothes that fit his body and put an end to his fashion crisis.

The campaign also features a vivacious and colorful spot, "The Right Fit," that illustrates the joy of finding tailored clothes in a snap of a finger. The spot takes viewers through an assortment of bright rooms with celebratory dance parties, balloons and oversized sunglasses.

"This project presented us with the fun challenge of creating a perfectly-fitted outfit for an animatronic grizzly bear, conveniently located on the other side of the country," notes Mccoy | Meyer. "We also had a longer prep period than normal, which gave us more familiarity with the MTailor app. While the cast were all getting custom clothes cut to their exact body measurements, we took the opportunity to obsess over every detail. (i.e.: Wouldn't it be great if Barry had a jar of honey next to the photo of his human girlfriend on his desk?)"
"We really lucked out in having a such a trusting creative director in Amil Husain, who humored all of our hairbrained 'WHAT IF' moments."

MTailor is a clothing app that uses a phone's camera and machine learning algorithms to measure 17 different points of a person's body for customized, tailor-fit clothing. The spots are currently available on YouTube and is being broadcast nationally.
Credits:
Client: MTailor
Director: Mccoy | Meyer
Creative Director: Amil Husain
Production Company: Rodeo Show
Executive Producer: Raphael Leopold
Producer: Wade Brandenberger
Cinematographer: Michael Rizzi
Production Designer: Jonathan Denmark
Editor: David Andreini
Color Correction: Bryan Smaller (Company3)
Sound Design: Jamie Coupar (48Windows)
VFX: Juan Granja, Kevin Lewis (Farmer Brown)
About Rodeo Show
We are Rodeo Show, a scalable content development and production company driven by the dynamic landscape of both traditional and new media. We're experts at building a dynamic incubator for artists to enjoy creative freedom backed up by resources necessary to collaborate closely with media clients, crafting a message that leaves the status quo in the dust.

This ain't our first rodeo and we have the tenacity and agility to bring visions to life. Our high standards for production values ensure that all involved enjoy the show.

Regardless of scope or size of a project, we thrive on the excitement of solving artistic challenges to create something special each time out of the gate.