Serena Williams Makes Herself Comfortable in Lincoln's Grammy's Spot
While, naturally, showing off its audio components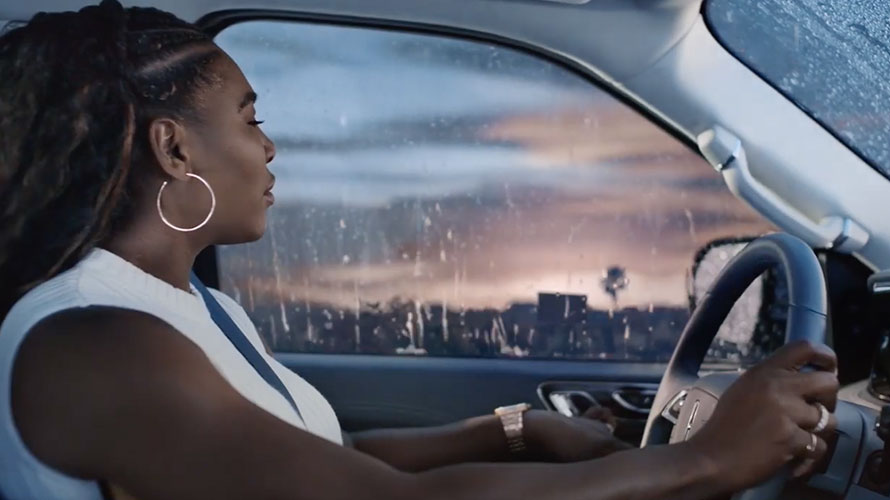 Serena Williams takes shelter from the storm in a new 60-second spot for Lincoln from Hudson Rouge, which will be running during Sunday's broadcast of the 2019 Grammy Awards.
While a thunderstorm rages around her, Williams finds herself at peace in the cabin of her Lincoln Navigator. She turns on the song "Make Yourself Comfortable" by four-time Grammy award-winning jazz singer Sarah Vaughan (also a nine-time nominee and Grammy Hall of Famer) and leans her chair back to take in the scene. Along the way, the ad makes sure to focus on the vehicle's 20 speaker-Revel Ultima audio system (this is a Grammy's ad, after all) as Williams turns the volume up to drown out the rain.
"Lincoln's biggest advantage is its luxurious interiors," Hudson Rouge chief creative officer Jon Pearce said in a statement. "In a category that is obsessed with showing you more sheet metal, we wanted to create a story that celebrated the interior of this vehicle for the sanctuary it is."
"Sanctuary" will make its debut during the broadcast of the 2019 Grammy Awards on Sunday, Feb. 10, supported by digital on NBCUniversal and Billboard online and Lincoln's own social channels.
Lincoln named Serena Williams as its new brand ambassador nearly a year ago, and she subsequently appeared in an anthem ad documenting her return to tennis.
The brand will also use the Grammy's as the broadcast debut for "Namesake," a spot honoring Abraham Lincoln that previously ran on digital channels ahead of the 16th president's birthday on Feb. 12.
CREDITS
Lincoln Navigator "Sanctuary": 60
Advertising Agency – Hudson Rouge
Chief Creative Officer – Jon Pearce
Chief Strategy Officer – Oliver Gibson
Chief Executive Officer – Paul Venn
Creative Director CW – Brett Minieri
Creative Director AD – Emlyn Allen
Senior Brand Strategist – Hao Day
US Business Lead – Doug Molloy
Group Account Director – Tamara Taylor
Director of Content Production – Suzanne Crowe
Executive Producer – John Cline
Advertising Compliance Director – Charlotte Curiston
Director, Rights, and Licensing – Nicole Marceca
Integrated Production Business Manager – Ron Kirkman
Talent Coordinator – Angela Martin
Production Company – Reset
Director – Andre Stringer
Executive Producer – Deannie O'Neil
Line Producer – Dennis Beier
Director of Photography – Martin Ahlgren
Editorial Company – Lost Planet
Editor – Saar Klein
Assistant Editor – Nick Bruce
Producer – Samara Kelly
VFX Company – MPC
Creative Director – Alvin Cruz
VFX Supervisor/Artist – Rob Walker
VFX Supervisor/Artists – David Anger, Warren Paleos
Colorist – James Tillett
Executive Producer – Camila Di Biaggi
Producer – Carlos Zalapa
Color Producer – Jenna Gabriel
Music – "Make Yourself Comfortable" by Sarah Vaughn
Music Supervision – N/A
Audio Mix – Sonic Union – Paul Weiss, Steve Rosen
"Namesake"
Production company – m ss ng p eces
Director – Jared Knecht
Managing Partners – Kate Oppenheim, Brian Latt, Ari Kuschnir
Executive Producers – Edward Grann, Dave Saltzman
Head of Production – Rebbeca Davis
Director of Photography – Jody Lee Lipes
Editorial Company – Cosmo Street
Editor – Mark Potter
Read the full article HERE.