Passionate Campaign Brings Attention to Need for Gender Equality in Youth Baseball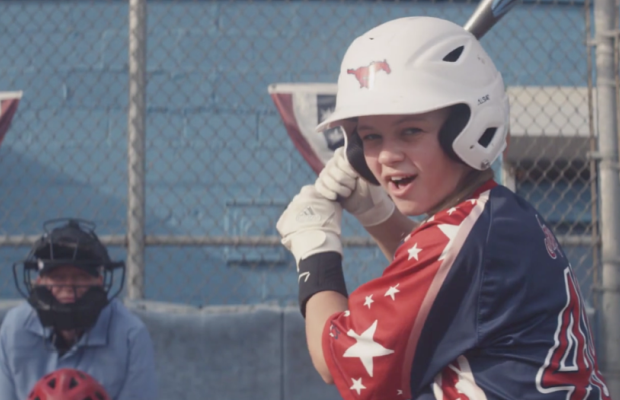 Agency Carousel and Tomorrow's Erica Eng launch 'She's Up' for Baseball for All
The United States is glued to their screens this time of year, watching the Major League Baseball playoff games and the World Series. They all watch and cheer, many hoping for their team to be the Cinderella story of the season, unaware that such a story would never be accessible to Cinderella herself.
As recently as the 1970s, girls were unilaterally denied the chance to play youth baseball. It took lengthy court battles to right that wrong, but even those legal wins didn't open the floodgates for girls' access to, and participation in, the sport. In fact, those legal hurdles were quickly followed by social hurdles. The majority of young female athletes, passionate about baseball, are still to this day pressured to switch to a more "appropriate" sport, as no schools on any level in the U.S. offer girls baseball programmes. (While softball is available, baseball and softball are considered two different sports, according to Title IX.)
The nonprofit organisation Baseball for All's new "She's Up" campaign – created by agency Carousel and directed by Tomorrow's Erica Eng – shows us girls who are driven to play the game for the same reasons anyone is driven to play it: for the love of it, the challenge of it, the joy of it and the sport of it. For all the same reasons the boys are playing baseball – but with an even greater level of intensity and dedication, as many young female baseball players have had to combat antiquated social expectations of what girls should, and should not, be playing.
Baseball for All founder Justine Siegel says: "If you tell a girl she can't play baseball because she's a girl, what else will she think she can't do? That's why I started Baseball For All, because I wanted girls to know they aren't alone in their love for baseball and to help give them a voice. We support girls who play baseball in a variety of ways, including creating girls baseball teams, running events and tournaments, and showing that girls really do play baseball. It's a community of support that keeps them playing."
"Our goal was to create a campaign that allows these strong, skilled female athletes to declare the game of baseball as THEIRS. To inspire more girls to start playing, and others who already love the game to keep on playing. We hope it encourages coaches, parents, leagues, and schools and other players to help break down any barriers that keep girls from participating in the national pastime," says Carousel executive creative director Cheryl Van Ooyen.
Creative director and editor Dick Gordon adds: "We often hear, as a defence of why girls shouldn't play baseball, is that they could never go pro. By that measure, 99.99% of the boys in Little League should put down their gloves right now! And beyond becoming the next Babe Ruth, we know the path to the front office starts on the field. By not allowing girls access to play in high school and college, they're also getting edged out of future trainer, commentator, and coaching roles. We need to open the whole system to their contribution."
All of the young women featured in the ads are actual players speaking lines they've heard or experienced themselves. Director Erica says: "When I look at these girls, I'm reminded of my own journey as a female director because I started when I was their age: 15 years old. The life lessons that Baseball For All are teaching them are ones they will carry with them wherever they go. I have so much faith in our next generation when I look at these young athletes. They are so strong and working with them has only inspired me to become stronger."
The pro-bono campaign was created entirely by volunteers and generous donations. All media placement is donated as well and the launch plan is to roll out the campaign during the MLB playoffs and the launch video will be shared and featured on social media by MLB, ESPN, as well as by like-minded celebrities, professional athletes, youth baseball leagues and coaches.
CLIENT
CLIENT: Baseball for All
FOUNDER: Justine Siegal
DIRECTOR, MEDIA & SOCIAL MEDIA: Lena Park
AGENCY
AGENCY: CAROUSEL
PRESIDENT, MANAGING PARTNER: Pete Kasko
MANAGING PARTNER: Bernadette Quinn
MANAGING DIRECTOR: Dee Tagert
ECD/WRITER: Cheryl Van Ooyen
CD/EDITOR: Dick Gordon
EP: Suzanne Crowe
ADDITIONAL PHOTOGRAPHY: Zach Cortez
CONFORM: Taylor Feld
PRODUCTION
PRODUCTION: Tomorrow
DIRECTOR: Erica Eng
EXECUTIVE PRODUCER: Chris Zander
PROJECT MANAGER: Rob Baunoch III
LINE PRODUCER: Emily McEvoy
DIRECTOR OF PHOTOGRAPHY: Kelsey Smith
COLOUR
COLOUR COMPANY: Company 3
COLOUR GRADE: Jenny Montgomery
SOUND
SOUND COMPANY: Sonic Union
SOUND MIX/DESIGN: Steve Rosen, Sonic Union
ADDITIONAL SOUND MIXING: Paul Vītoliņš, Bang
MUSIC
ARTIST: Sofi Tukker
SONG: 'Baby I'm A Queen'
PUBLISHER(S): Third Side Music, Warner Chappell
MASTER: Zync Music o/b/o Ultra Music
CATEGORY: CORPORATE, SOCIAL AND PSAS , NON-PROFIT
GENRE: DIALOGUE , PEOPLE
Read the original piece here.