Suzukis Talk Thanks to Singing Birthday Card Technology in Latest Deloitte Digital Campaign
"Glovebox? More like chatterbox, am I right? I mean, does anyone actually put gloves in here?" a car compartment asks in Suzuki's latest iteration of its 'For Fun's Sake' platform.
The car is talking because the new Baleno can talk in the ad's parallel universe, featuring the same technology found in singing birthday cards to speak from the glovebox, centre console, boot, and underneath the sun visor.
The futuristic TVC shows off the car talking from these compartments, claiming "Suzuki have succeeded where others have wasted millions".
Competitors have introduced gimmicks in order to sell cars, Suzuki claims, but that drives the price up. The brand has now caved to such gimmicks in the Talkomobile campaign, but it's doing them for free.
"Although packed with all the modern necessities, the new Suzuki Baleno is excellently priced because it doesn't have the gimmicky features that tend to put the price up. Well, until now. This campaign is set in a parallel world, a world where Suzuki does gimmicks … and has a German accent," chief creative officer of Deloitte Digital, the brand's agency, Matt Lawson said.
Poking fun at European car companies is a way to cut through in a declining auto market, the brand said.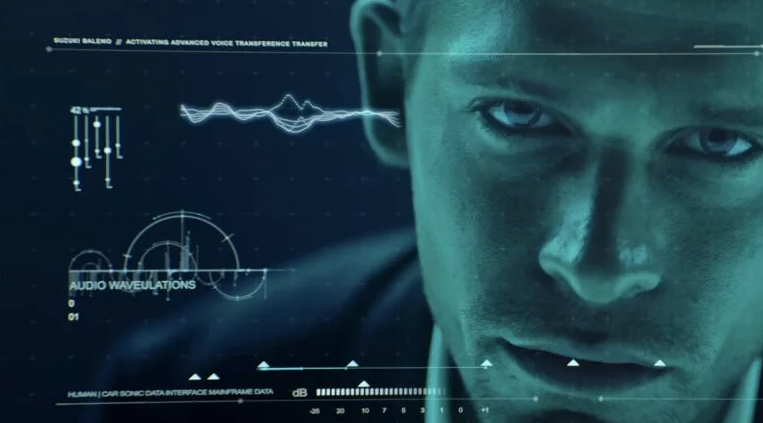 "In keeping with our 'For Fun's Sake' brand platform, we've delivered this value proposition in a tongue-in-cheek way, while at the same time poking a bit of fun at premium European car brands," the car company's national marketing manager of automobile, Daniel Mercuri, said.
"It's early days, but from the teaser phase we've already seen huge engagement from our audience in a really positive way."
General manager of automobile, Michael Pachota, added that Suzuki Australia has had sales growth year on year in the face of a weak market. The Standard Media Index's most recent ad spend figures showed automotive and retail accounted for 35% of the pre-Christmas decline.
"New Baleno is a key player in the light car segment and presents exceptional value, even more so now with the 'free gimmicks'! For FUN's sake, naturally," he said.
The campaign will roll out across TV, online, socials, radio, podcast and website.
Credits:
Client: Suzuki Australia
Michael Pachota: General Manager – Automotive
Daniel Mercuri: National Marketing Manager – Automotive
Ravishing Robert Rosengarten: Assistant Marketing Manager – Automotive
Creative Consultancy: Deloitte Digital
Creative Brand & Advertising Partner: Adrian Mills
Chief Creative Officer & Partner: Matt Lawson
Executive Creative Director: Charles Baylis
Creative Director: Gustavo Vampre
Designer: Kyle Lotherington
TV Producer: Marlese Sloan
Group Account Director: Daniel Loukidis
Account Manager: Natalie Ng
Production Company – FINCH
Director: Toby Pike
Managing Director/Executive Producer: Corey Esse
Producer: AnnaTara Clark-Sneddon
Post Production – ATTICUS
VFX and Online: Drew Downes
Colourist and Online: Alina Bermingham
Post Production – ARC EDIT
Offline Editor: James Ashbolt
Senior Producer: Freya Maddock
Post Production – Motion Graphics: Hugo Hors
Sound – Squeak E. Clean Studios
Sound Designers: Paul Le Couteur & Ryan Dickinson
Sound Producer: Alice Vanderwey
Original Music Composition: Charlie White
Executive Creative Producer: Karla Henwood
Digital Production: VI
Kieren Redpath: Director
Kyle Redpath: Managing Director
Media: Noisy Beast
Ben Lynch: Group Media Director
Ashleigh Budgen: Media Account Director
James Franklin: Campaign Manager
Read the original piece here.