Sundance: Return Engagements & A New Sense of Place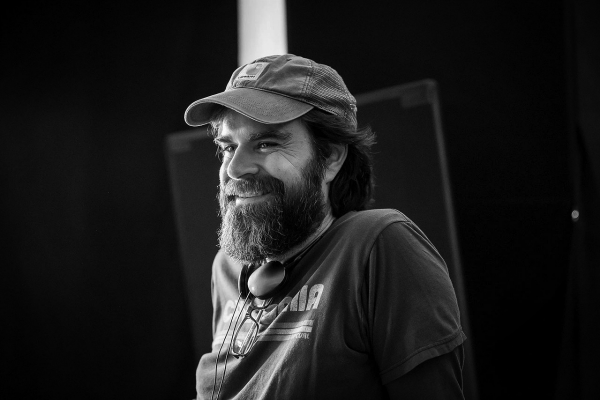 Director Braden King
Director Braden King's first narrative feature, HERE starring Ben Foster, debuted at the 2011 Sundance Film Festival in the U.S. Dramatic Competition. Fast forward to today and King is back at Sundance in Park City, Utah, with another entry in the fest's U.S. Dramatic lineup–The Evening Hour, an adaptation by screenwriter Elizabeth Palmore of Cartel Sickel's novel carrying the same title.
King, whose feature endeavors enjoy the support of Washington Square Films, the production house which also represents him in the commercials and branded content marketplace, said of his return engagement at Sundance, "I now have a greater sense of knowing what it means having been through it once. The honor feels a little weightier, possibly more exciting, having the ability to go in with a little less anxiety, to experience a little more enjoyment. You really don't know what you're in for the first time, specifically in the competition categories. There's no way to fully prepare for it. There's a little bit more of a calmness for me the second time around."
Produced by Star Thrower Entertainment, Truckstop Media, which is King's company, and Secret Engine, with assistance from Washington Square Films, The Evening Hour takes us to a rural Appalachian town, introducing us to Cole Freeman (portrayed by Philip Ettinger), a nursing home attendant who looks after the elderly and infirm while selling their excess painkillers to local addicts. He's not your typical dealer as he is personally connected to his customers and their plights, caring about them, helping them get through the day–albeit enabling their reliance on meds in the process. But when a friend from his youth returns with plans to get into the drug peddling business, Freeman's strangely crafted world of patient care and the black market is jeopardized, forcing him to take action. This portrait of lives in a closeknit community struggling during hard economic times paints a somber picture of rural America. Yet at the same time this atmospheric film conveys hope and the yearning for spiritual redemption.
In looking for a place that would do justice to the fictional town in Sickel's book, King ultimately decided to shoot in and around Harlan County, Kentucky, even though it was three hours from the nearest airport, and logistically not the easiest place to get in and out of. But going out of his way to get the right environ and atmosphere for his work is a self-described "specialty" of King whose HERE was one of the first features shot in Armenia. He even has experience lensing in the Aleutian Islands.
"There's something you get by going in deep for a location. It's irreplaceable. Going there (Harlan County) didn't make it easy on the production but we got kind of an essence you couldn't capture anywhere else. We were very lucky to find an incredibly collaborative community in Harlan, hiring folks to work with us, to collaborate with us, which added a layer of rural country authenticity to the story. My development process on narrative films is not that different from when I make documentaries (with credits including co-directing the lyrical doc. Dutch Harbor: Where The Sea Breaks Its Back). I travel, spend time at a place, photographing it quite a bit. It seems to anchor the film a little more solidly. In commercials, my background is in real people. Going to places and shooting real people around the world, finding the place with the right feel pays off over and over, helping to shape the personality of the film. You collaborate with the location and the community which translates into a way of shooting you can never fully expect, enabling you to get things you couldn't get any other way."
Helping King immeasurably in that regard was DP Declan Quinn, ASC (Leaving Las Vegas, Rachel Getting Married), a winner of three Film Independent Spirit Awards for Best Cinematography, as well as a primetime Emmy. The Evening Hour marked King's first collaboration with Quinn. "It was a great honor to shoot with him, to have the experience and thoughtfulness he brought to the production," said King of the DP. "I can't say enough about him. We met during the pre-pro process. He came in with a stack of photo books. A half-hour meeting turned into two-and-a-half hours. There's a real film history flowing through his eyes and hands….You can smell the landscape in a lot of his images. At the same time there was a formality and composition to the images that I feel really proud of."
On the editorial front, King brought in Andrew Hafitz and Joseph Krings for The Evening Hour. This was King's first time working with Krings while Hafitz and the director have a track record as collaborators. Hafitz had been a cutter on the aforementioned HERE. King has embraced the dynamic of working with more than one editor on a film. "I found that working with multiple editors gives me a greater perspective on the film, to help me see it through different angles, different lenses," he explained. Hafitz and Krings' perspectives helped to shape the film for the better, assessed King.
King learned a lot from his experience on The Evening Hour. He shared, "You've heard the axiom of 'write about what you know.' I found that I'm drawn to the opposite idea, looking instead for projects I've never done before, getting a life experience I couldn't get any other way. That process itself needs to be its own reward aside from the result. The time I spent in pre-pro, location scouting, traveling all over southeastern Kentucky, western and southern Virginia, photographing, meeting people was a complete experience unto itself before we started shooting. The three months in Harlan shooting and prep time around that was one of the most rewarding experiences of my life. I made friends there I will have forever. The depth and complexity of the people we met there will stay with me. We tend to have one dimensional images of what rural America is about. I hope The Evening Hour will help turn those expectations and cliches on their heads."
King noted that his short-form endeavors inform his feature exploits and vice-versa. The director's ad credits span such brands as Samsung, American Airlines, Miller Beer, ESPN, Nikon, The Partnership for a Drug-Free America, Johnson & Johnson and UNICEF. "First and foremost, I love shooting," affirmed King. "A feature can take years to get off the ground. So I benefit from short-form work. It's like playing an instrument, being able to constantly experiment, experience new crew members. The problem solving aspects of the work are very similar to features. It's given me high sensitivity to everything from emotional beats to how you're telling a story visually, directing the arc of a campaign over five or six spots, beyond an individual piece. I can't imagine going long lengths of time without shooting. I truly love the short-form work. I don't separate it from my feature work. Both inform each other, I've gotten a lot of gratification from short-form projects. I'm very privileged to be able to participate in the ad world through Washington Square Films. I have been on this movie for the last year or so. I can't wait to get back into shorter-form content."
Read more about other directors returning to Sundance in the original piece here.