LFG Puts Financial Conversations on the Menu This Christmas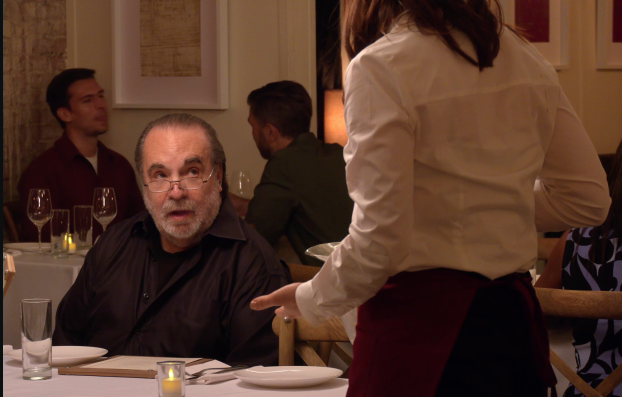 FCB New York launches 'The (Un)Spoken Plan'
Lincoln Financial Group today announced that it has launched 'The (Un)Spoken Plan' campaign featuring a social experiment called 'Restaurant Talks', in which they took over a restaurant, added hidden cameras and changed up the menu to get real, unsuspecting families talking about finances. This is the first campaign from FCB's New York office for Lincoln Financial since securing the company's digital and social business in the first quarter of this year. The agency's relationship with Lincoln Financial began in 2015.
'Restaurant Talks' was created in response to a new proprietary survey, entitled the 2019 Lincoln Financial Conversation Survey, that revealed, among other startling statistics, that 47% of Americans struggle to have conversations with loved ones about long-term financial planning. The campaign's goal is to lower this unsettling number by encouraging people to talk to their loved ones about finances with the help of Lincoln Financial tools and resources. The initiative sets out to inspire Americans as they gather around the dinner table this holiday season.
The campaign film, which was directed by Washington Square Films director and hidden camera expert Andrew Lane, featured various families arriving at a restaurant for dinner. The families were handed a unique menu made up of surprising data points (the appetisers) and tough financial questions (the main courses) covering a range of savings, protection, retirement and financial planning topics. Diners were then informed by their waiter that they could pay for their meal only by having a meaningful financial conversation with their loved ones – right then and there. Hidden cameras captured the real reactions and enlightening discussions that followed.
"The survey was a real wake-up call for us. You think about all the things you talk about with your family, but for nearly half the country, finances aren't one of them. We wanted to find a provocative way to break this taboo and get people talking," said Stu Mair, FCB New York EVP, executive creative director. "It was amazing to watch each family take on these tough questions – some for the first time – and how much they learned in just one, rather bizarre, meal. Hopefully, one conversation sparks another."
Data from the 2019 Lincoln Financial Conversation Survey revealed that while 93% of Americans believe it is important to set a plan for their family and their own financial future, 47% of them – nearly half of the entire country – struggle to have financial conversations with their loved ones. Other key highlights from the survey show that Americans need help having these financial discussions:
– 38% of respondents said they did not talk to their spouse/partner about each other's financial situation before getting married/committing to a long-term relationship.
– 55% of those without a financial plan are not confident in their retirement.
– 86% do not feel they have saved enough for retirement.
– 88% do not feel or know if they have saved enough to protect themselves and their loved ones in the future.
"Lincoln believes that the more people talk, the better they can plan and prepare for their financial future, but our research shows people aren't having these important conversations," Angela Schema, vice president, advertising and sponsorships at Lincoln Financial Group. "This campaign uses authentic discussions with real people to engage and encourage people to start – or continue – their own financial conversations and empowers them by providing tools to help."
This social experiment is part of the 'The (Un)Spoken Plan' platform, and follows on the heels of the release of 'Face The Conversation', which challenges people to have these same types of tough financial conversations with loved ones via video chat as the first step in this process of transparency.
AGENCY
FCB NEW YORK:
CHIEF CREATIVE OFFICER: Ari Halper
EVP, EXECUTIVE CREATIVE DIRECTOR: Stu Mair
ASSOCIATE CREATIVE DIRECTOR, COPY: Tara Dobson
ASSOCIATE CREATIVE DIRECTOR, CONTENT CREATOR: Thomas Mori
COPYWRITER, CONTENT CREATOR: Jack McCormick
ART DIRECTOR, CONTENT CREATOR: Andrew Mikhael
COPYWRITER: Jon Gruber
CHIEF STRATEGY OFFICER: Todd Sussman
SVP, GROUP STRATEGY DIRECTOR: Ben Grossman
STRATEGY DIRECTOR: Hanna Park
SENIOR SOCIAL STRATEGIST: Greg Hines
PRESIDENT: Emma Armstrong
SVP, ACCOUNT DIRECTOR: Wendy Steinberg
ACCOUNT DIRECTOR: Sarah Tarner
SENIOR PROJECT MANAGER, OPERATIONS: Jesse Morris
DIRECTOR OF INTEGRATED PRODUCTION: Adam Isidore
EXECUTIVE BROADCAST PRODUCER: Leanne Diamond
DIRECTOR OF BUSINESS AFFAIRS: Janice Katz
BRAND
CLIENT: Lincoln Financial Group
SVP, CORPORATE MARKETING, COMMUNICATIONS AND STRATEGY: Kristen Phillips
VP, ADVERTISING AND SPONSORSHIPS: Angela Schema
DIRECTOR OF ADVERTISING: Sarah Blair
DIRECTOR OF SOCIAL MEDIA AND CONTENT STRATEGY: Holly Hettinger
CONTENT MARKETING & SOCIAL MEDIA CONSULTANT: Kirk Wilson
B2B ADVERTISING CONSULTANT: Dani Vitale
ANALYST, CONSUMER AND B2B ADVERTISING: Brad Cutler
PRODUCTION
DIRECTOR: Director Andrew Lane – represented by Washington Square Films
EDIT
EDIT COMPANY: NoMad
EDITOR: Adam Schwartz
COLORIST: Stephen Picano
FLAME: Alexander Chizhov
PRODUCER: Valerie McAndrews
EXECUTIVE PRODUCER: Jennifer Lederman
AUDIO
AUDIO POST: Heard City
MIXER: Eric Rado
MIXER: Jody Loeb
MUSIC: Ashe & Spencer
Read the original piece here.