Early in 2020, as we humans retreated to our safe covid-free homes, animals everywhere began to take the streets back in many, varied and delightful ways. Skies and waters became cleaner across the globe, and for one crystal-clear moment in time, humanity was able to see mother nature react to our 'great pause.'
 Propelled by this powerful environmental affirmation, newly formed eco-storytelling collective, Raft Animation Studios, has created 'iOtter Clean Up,' a PSA featuring Oliver, a spokes-otter with a lot to say about how all of us are part of the solution in cleaning up our world. His light-hearted approach with its timely and imperative message has already resonated with audiences, taking in over 111,000 views in less than 48 hours from its Instagram premiere, in partnership with global nonprofit organization Oceana, the world's largest international foundation dedicated solely to ocean conservation.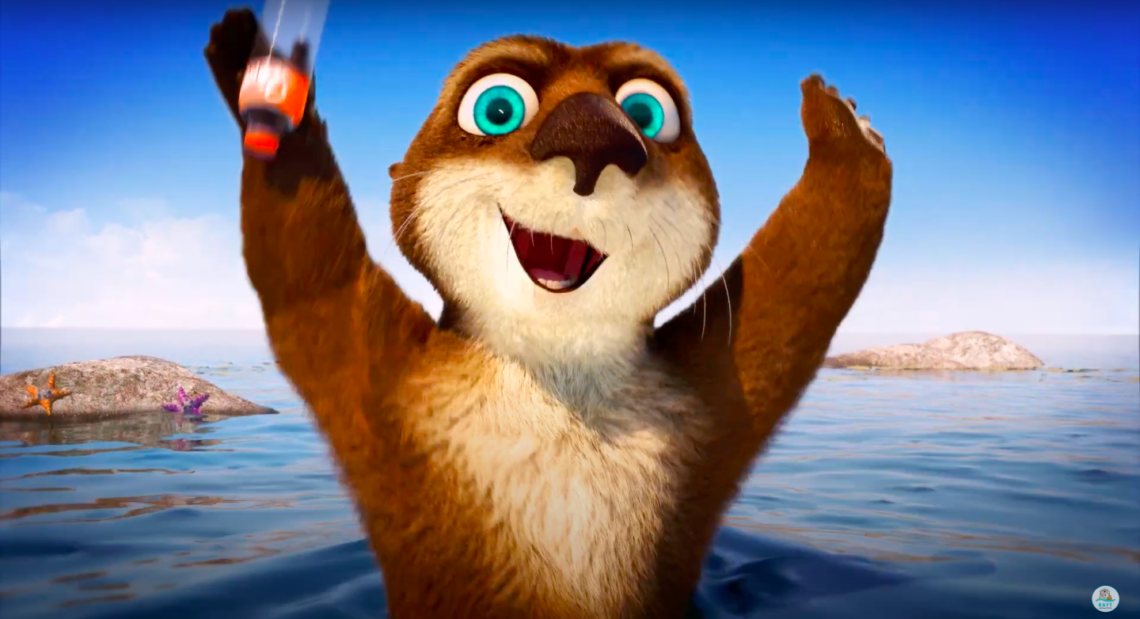 Born out of a round of cocktails, a shared belief in animation's unique ability to 'get the message across to all ages,' combined with a passion to protect our environment, Producer Michaela Hart and Director Christopher Jenkins conspired to sidle up to a reluctant public, persuading them to get involved in environmental issues through a combination of laughter and climate conversation.
Chris, formerly an animator for Disney Feature Animation during the '90s, and who also created and produced Academy Award-nominated Surf's Up for Sony Animation in 2007, wrote and directed Oliver's first dip in the celebrity sea. Chris's illustrious animation credits include iconic features such as Who Framed Roger Rabbit, Aladdin, The Lion King, The Little Mermaid, and Beauty and the Beast. 
Producer Michaela Hart is a highly experienced animation veteran with a diverse international background in Animation, having built and revitalized CG and animation departments for top studios including Nickelodeon, Universal, Netflix, and MTV. Along with such experience, Michaela's vision and tenacious approach to filmmaking has grown a thought into a studio and a studio into a collective of passionate, acclaimed artists.
One such passion-inspired and essential Founding Partner of RAFT is Executive Producer and Head of Talent, Rachelle Lewis. It is through Rachelle's encyclopedic mind and rock-solid connections to the industries most talented artists via her firm, RLT, that RAFT was able to speedily put together a highly accomplished group of animators, including production house Lagoon Black Studios. Rachelle also spearheaded the challenge of acquiring the best talent available for 'RAP' otherwise known as 'Remote Animation Production,' necessarily reinventing the wheel of what has formally been such an in-person group/studio effort. Born from a strong belief in the environmental emergency at our doorstep, none of the artists were paid for their time working on this project. Every one of them donated their skills and time freely, with Lagoon Black stepping up to donate a significant amount of time and talent.
Leading the collaboration of artists from Vancouver to Los Angeles was the accomplished animation hub, Lagoon Black Studios Owned and operated by brothers Larry & Darrell Vasquez, Lagoon Black is a full production and service work company, producing high-end marketing material for such films as Wonderpark, Ugly Dolls, and Scoob, just to name a few. Darrell, Creative Director for Oliver's first outing, got his start as an animator in AAA games (Ratchet and Clank, Sunset Overdrive) and films (Scoob & Rockdog). Larry, who also animated on the piece, contributed many hours to making Oliver furry and the ocean sparkle. 
In the early stages of production Alkemy-X, an award-winning global creative studio, eagerly stepped up to collaborate on this eco-driven creative initiative. Their team partnered with the Raft creative team to visualize the initial concept of the PSA and were key in getting the project rolling.    
The video features an energetic voiceover from actor Phil Buckman. Phil's voice has reached millions of people through work on national TV and radio campaigns for top brands, including Carl's Jr. and Hardee's. He also charmed audiences as the voice of The Today's Show Summer Concert Series, as well as countless promos for CBS, ABC, NBC, FOX, Adult Swim, and more.
Finally making the whole piece sing, Oliver is backed by a custom made, delightfully original ukulele instrumental, composed and played by the phenomenal musician, John Osborne, of the multi-award-winning Southern Rock band Brothers Osborne. 
The collective of animation professionals that make up RAFT is passionate about leveraging their Hollywood experience to advocate for urgent and essential environmental issues. In line with their brand of creating 'animated narratives that connect and inspire audiences to participate in our world's health,' Raft Animation's Oliver Otter will continue to champion global environmental causes in forthcoming PSAs with NGOs and nonprofits to amplify relevant eco-initiatives.