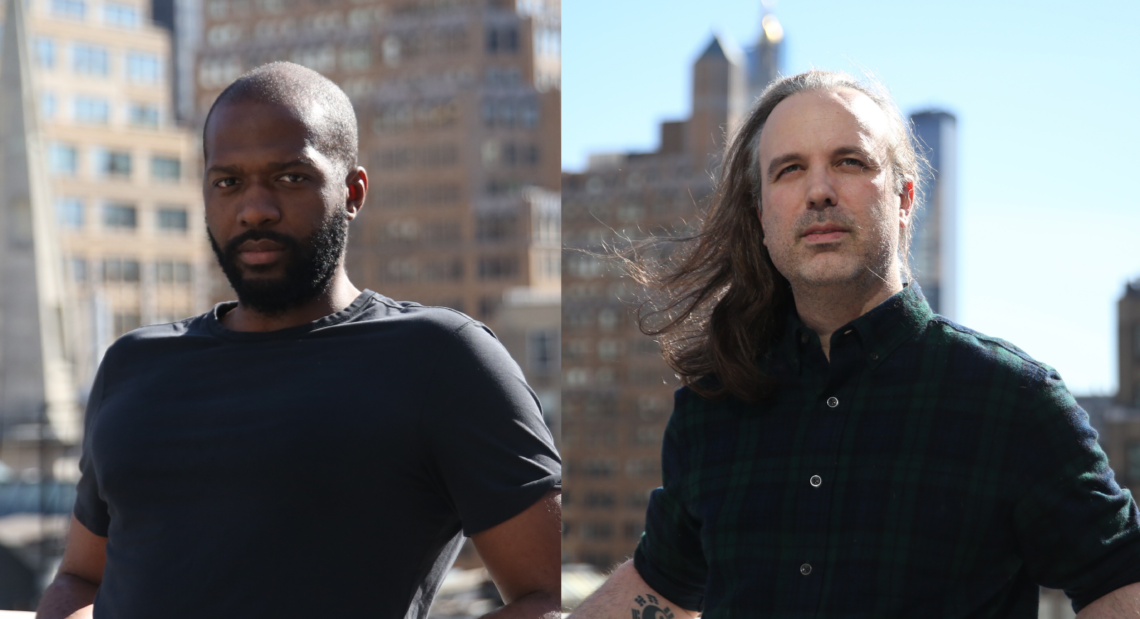 L-R: Bilali Mack, Erin Nash
Alkemy X has hired VFX Supervisors Bilali Mack and Erin Nash in its NYC office. Mack comes to Alkemy X from MPC, where he supervised and executed VFX on spots for top brands including Adidas, Sonos, Google and BMW. Nash joins the team from FuseFX where he served as Head of 2D, leveraging his experience across television, film and commercial work. Mack will be serving as VFX Supervisor on the upcoming STARZ "Power Book III: Raising Kanan," utilizing his expertise at the intersection of technology and artistry to amplify the storytelling with heightened visuals. Nash's top credits include work on the feature comedy Hail Caesar!, and series including "Game of Thrones," "Iron First," "The Walking Dead," "The Defenders" and "Warrior."
The hires come on the heels of a year of steady growth for the visual effects division, with work for such top series as "The Marvelous Mrs. Maisel," "Fear the Walking Dead" and "Blindspot." Mack and Nash will join a lineup of VFX talent with vast experience on award-winning episodic series, feature films and branded content, led by VFX Creative Director Dave Zeevalk and Executive Producer Mark Miller.
"At Alkemy X, we're not only focused on crafting work that pushes creativity at the intersection of entertainment and technology, but also on building a culture that values our entire team and fosters innovation," notes Alkemy X President & CEO Justin Wineburgh. "We are beyond lucky to have two of NYC's brightest VFX talents joining us. For a VFX artist, we have become the place to be, and I am looking forward to the magic they'll ignite with the incredible team we have already assembled, and will certainly continue to grow."
"Alkemy X has put together a team of top-tier talent and has developed a very forward-thinking pipeline that allows the team to truly push the boundaries of visual effects," adds Nash. "I'm thrilled to come on board with this talented group of artists and producers."
"The ability to innovate, create custom workflows and iterate work at a quicker pace is something that excites me about working with a nimble shop like Alkemy X," notes Mack. "I'm excited to curate and lead teams of talented artists for their impressive slate of episodic projects."
Mack graduated with a B.F.A. in animation and media from Emerson College and has rapidly established himself as a talent to watch in the visual effects and animation space. He has honed his approach as an artist with stints at Brickyard VFX, Smoke & Mirrors and MPC, working with top directors including Saam Farahmand, Dave Myers, The Russo Brothers and Lance Acord. He currently furthers his education at the forefront of animation technology through his continued involvement with SIGGRAPH. Outside of the studio, he spends his free time perfecting his street photography, taking in the latest indie film launch and strategizing his next dinner reservation.
Nash boasts over a decade of experience in CG and compositing with top industry shops like FuseFX, Zoic Studios, The Mill, The Molecule, Psyop and Artjail. He combines his skill sets as an artist and technologist to craft vivid visuals that push the limits of VFX technology for high-end entertainment and commercial work. He holds a B.A. in Art from Ursinus College, as well as a diploma in Visual Effects from 3dsense Media School. Outside of the studio, Nash keeps his creativity fresh by spending his time on woodworking, photography and archery.
About Alkemy X
Alkemy X makes things. Big things, small things, and all the things in between. We're nimble when necessary, but with an army of full time staff and crew we can scale to meet the demands of any sized project.
We wear many hats and wield many different tools. We are artists and animators, producers and showrunners – writers, directors and editors, oh my! We bring big ideas to life by working together in an end-to-end process that allows us to ideate, produce, and deliver faster (and better) than you ever thought possible.
With offices in NY, Philly, LA and Amsterdam our team has a proven track record of working together to bring a unique approach to every project.