L-R: Tim Nudd (CLIO Awards),  Jaime Robinson (Joan Creative), Jose Gomez (ATK PLN), Tony Hawk (D/CAL), Marie Ronn (Spotify)
2019's Advertising Week New York (AWNY) wrapped after an exciting week of panels and events held by top advertising executives and some of the most talked-about celebrities. The thought-provoking panel Creative Problem Solving Should Scare You, and That's Okay closed the program on Thursday 9/26 with a lively discussion on leaning into scary ideas in the creative process. The panel included ATK PLN Executive Creative Director Jose Gomez; Jamie Robinson, CCO of Joan Creative; Marie Ronn, Group Creative Director of Spotify; Tony Hawk, Skateboarder and Co-Founder of D/CAL; and moderator Tim Nudd, Editor and Chief of the Clio Awards. The conversation touched on the panelists' insights on overcoming fear when entering into uncharted territory in the creation of impactful projects. Jose spoke to his experience directing a promo for AMC's The Walking Dead and how he doesn't allow fear to overcome his ability to create beautiful work. 
When Jose was contacted by AMC about the promo, he was told that it was for its fifth season and that he would only be given fifteen minutes with each of the actors. He took this information in stride because, although he  knew devoted The Walking Dead fans would be watching closely, he knew that it was about not letting fear debilitate you "…because that's when the best creative comes out." With the limited resources he was provided, he decided to center that promo on the actors' faces to showcase each character's fear and intense need for survival–just as Jose feels when he starts working with a new company, utilizing that fear that to produce results.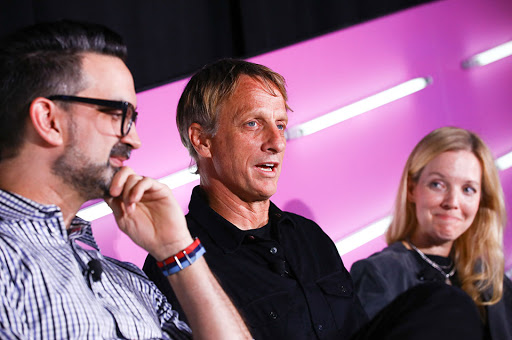 Tony Hawk shared similar feelings about the ways he manipulated fear to influence his work in the ad world, both in front of and behind the camera. His early work with Doritos, for example, would have turned out completely different had he not spoken up and given his expertise on how to make a skateboarding trick look best on camera and on the packaging. He learned that if you don't fight for the right creative control and listen to the talent's expertise, an ad won't relate to the proper audiences. 
While working on a 15-second ad for Fiber One to promote their new packaging, Jamie Robinson knew she had to revamp their messaging. When a co-worker suggested that Fiber One had "a little work done," she and her team decided to make the ad like a play-on-words as an homage to plastic surgery, a topic not usually discussed in the advertising space. However, Jamie said that working with brands comes with taking risks, which ends up creating ads that audiences will remember. Marie Ronn added, "You have to do things that are relevant to culture" and concluded with emphasizing the need to be the loudest voice in the room. Her work at Spotify gives her the reins to try out what may look like risky ideas, because that is what the company was built upon. 
Moderator Tim Nudd asked in closing about younger talent in the advertising world–how to encourage them to be fearless and speak out about their creative abilities. Jose noted, "You shouldn't be afraid to get your opinion out there and really get your elbows out, because having a voice is one of the most important things in a large group." 
Click HERE to watch the full panel.