VR180 Video Stars the Show's Host Joey Graceffa Alongside YouTube's Biggest Stars
Pasadena, CA-based creative studio SunnyBoy Entertainment leveraged its technologically advanced post production offerings to reveal the season 3 cast of YouTube Red's original hit series 'Escape the Night' with a VR180 promo in collaboration with Google Daydream. The piece was produced by WEVR and directed by Lex Halaby, and marks the first time the hit show has used VR in its promotion strategy. The effects heavy video takes place during a "frozen moment" at a haunted carnival, transporting the viewer through scene after scene of gravity defying visuals. The VR180 experience stars the show's host Joey Graceffa and some of YouTube's biggest creators including MatPat, Rosanna Pansino, GuavaJuice, Safiya Nygaard, Teala Dunn, JC Caylen, Manny Mua, Nikita Dragun and Colleen Ballinger.
SunnyBoy Entertainment's Co-Founder and Creative Director Craig Phillips notes, "We conducted several experiments prior to shooting to ensure that we could pull this concept off.  From the actors holding certain poses, to the fluidity of the camera moves to the photoreal textures, lighting and parallax of the 3D stereoscopic objects, it was a concerted effort from our team.  If one little thing was off it will take you out of the entire experience. Lex's attention to detail every step of the way was paramount in the execution and our visual effects team really delivered on his vision."     
Adds Halaby, ""Daydream entrusted me to develop creative that not only entertained but showcased the unique benefits of their new VR180 format. The result is a cinematic VR experience that bridges the gap between traditional film and virtual reality. With twice the resolution of 360 and optical 3D, the world of Escape The Night has never looked more true to life. This posed a challenge when the creative called for CGI assets to seamlessly track into the live action world. I knew from my experience with SunnyBoy that they would be the perfect partners to tackle this ambitious post effect."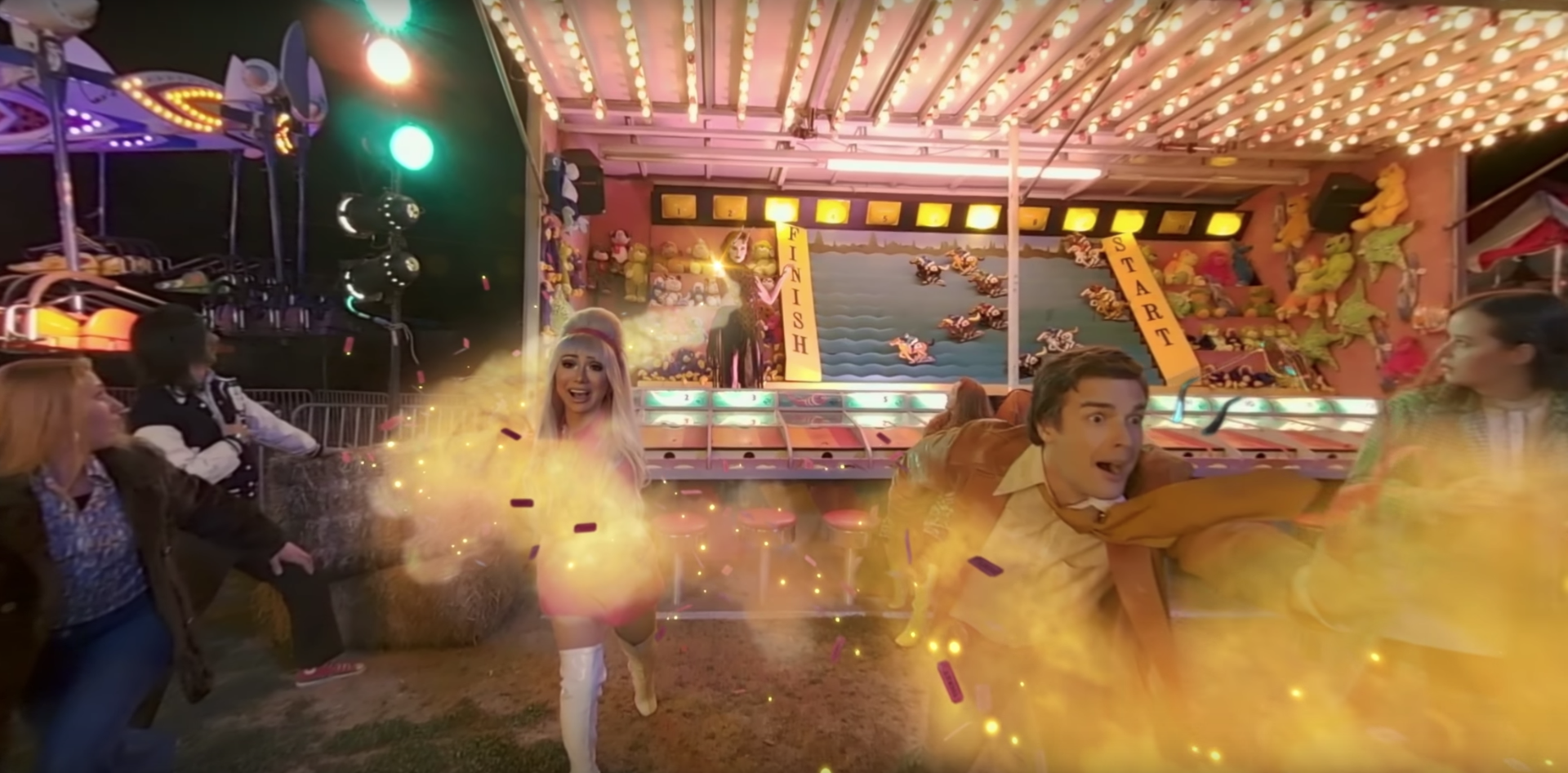 The VR180 piece transcends the typical promo video, calling for large-scale, technology-forward methodology. One of Google's first initiatives to produce cinematic content in VR180, the use of the new format required advanced capabilities and expertise in post. SunnyBoy's creative team conducted a vast R&D phase to navigate post-production complexities of the new format in order to seamlessly integrate the CGI frozen world with live action plates. SunnyBoy infused the piece with extensive visual effects, editing and audio to bring the carnival-themed world to life within the new VR180 medium, pushing the creative and visual possibilities of content in this new format.
Escape the Night Season 3 premiered June 21st.
Credits:
Client: Google Daydream
Director: Lex Halaby
Production Company: WEVR
Executive Producer (Production) – Anthony Batt
Head of Production – Haley Moffett
Producer – Lauren Ciell
DP – Graham Robbins
Production Designer – Christian Stone
Costume Designer – Olivia Hines
Makeup – Cristina Waltz
Post Production Company: SunnyBoy Entertainment
Creative Directors – Craig S. Phillips and Harold Hayes, Jr.
Executive Producer (Post-Production) – Lara Hoefs
Visual Effects Supervisor – Keith Webster
CG Generalist – Yomi Adenuga
Effects Artist – Sabour Amirazodi
Model + Texture – Jun Lee
Concept Art – Sienne Josselin
Audio post production:Spacewalk Sound
Sound Engineer: Matthew Bobb
About SunnyBoy Entertainment
SunnyBoy Entertainment is a full-service creative studio specializing in a new era of entertainment. From concept ideation to delivery, SunnyBoy brings projects to life, creating top tier storytelling and cinematic visuals for original and branded content as well as virtual reality for major studios, brands and companies. Launched by Emmy-nominated writers, SunnyBoy is home to a collaborative force of creative artists and seasoned filmmakers who produce state-of-the-art narratives and VR across an array of platforms.
Based in Old Town-Pasadena, the creative studio's expert capabilities include editorial, spatial audio mixing, visual effects and VR/AR production and post. Solving problems by applying a team-based "hive-mind," SunnyBoy Entertainment delivers content and experiences that exceed expectations and transport audiences.