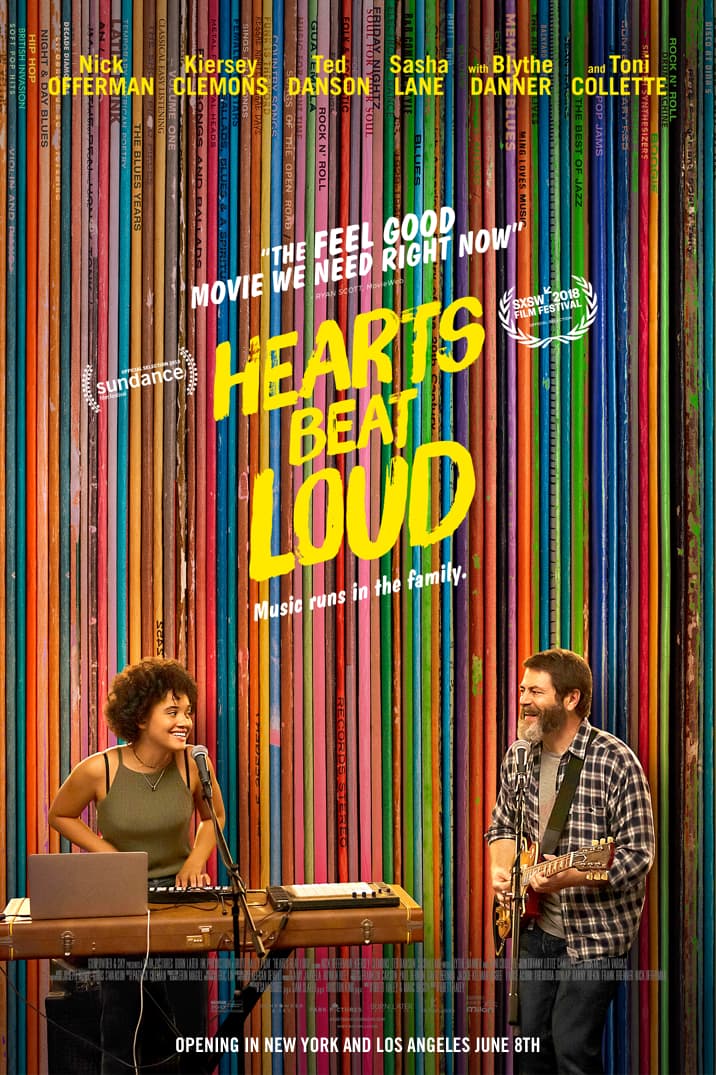 Courtesy heartsbeatloudmovie.com
After receiving critical praise following the film's premiere at Sundance 2018 and the 2018 SXSW Film Festival, international production company Park Picture's full length co-production Hearts Beat Loud is set to release on June 7th in New York, at the Regal Union Square Stadium 14 and Landmark at 57 West, and in Los Angeles at the Landmark Theater. The film will then premiere in select theaters June 8th.
Screenings at Regal Union Square Stadium 14 and Landmark at 57 West will include special Q&As on June 7th, 8th, and 9th, from film stars and names Nick Offerman, director Brett Haley, Kiersey Clemons and more.
Nick Offerman, star and executive producer of the film, plays a record store-owning single father who embarks on a musical journey of discovery alongside his daughter, played by Kiersey Clemons. Hearts Beat Loud received domestic and international distributions deals in January, and the film has consistently been applauded for its charisma and performances.
"Haley's 21-drum solo salute to the passage of time is, like Frank, merely fine. But he admirably keeps his characters' victories small and their losses familiar, making his movie a ballad everyone can hum to." – Variety
Park Pictures' producers Sam Bisbee and Sam Slater joined forces with Houston King, Burn Later Productions and co-producers Amy Jarvela and Rowan Riley for Hearts Beat Loud. Jackie Kelman Bisbee, Lance Acord and Theodora Dunlap, executive produce alongside Danny Rifkin, Frank Brenner and Nick Offerman.
Launched in 2010 and led by Sam Bisbee, Jackie Kelman Bisbee and Lance Acord, Park Pictures Features has produced 12 films that have provided the studio with 6 Sundance Film Festival selections, a Golden Globe nomination and a Best Live Action Short Academy Award in 2010 for The New Tenants. Park Pictures Features has worked with stars such as Jemaine Clement, Aubrey Plaza, Nick Offerman, Mark Ruffalo and Zoe Saldana, among others. Park Pictures showcased three films at the 2018 Sundance Film Festival in addition to Hearts Beat Loud, including the Sundance Next Fest program film An Evening with Beverly Luff Linn and the documentary feature The Sentence. The Sentence especially resonated with attendees and earned the annually-coveted Audience Award.

Click HERE to purchase tickets.