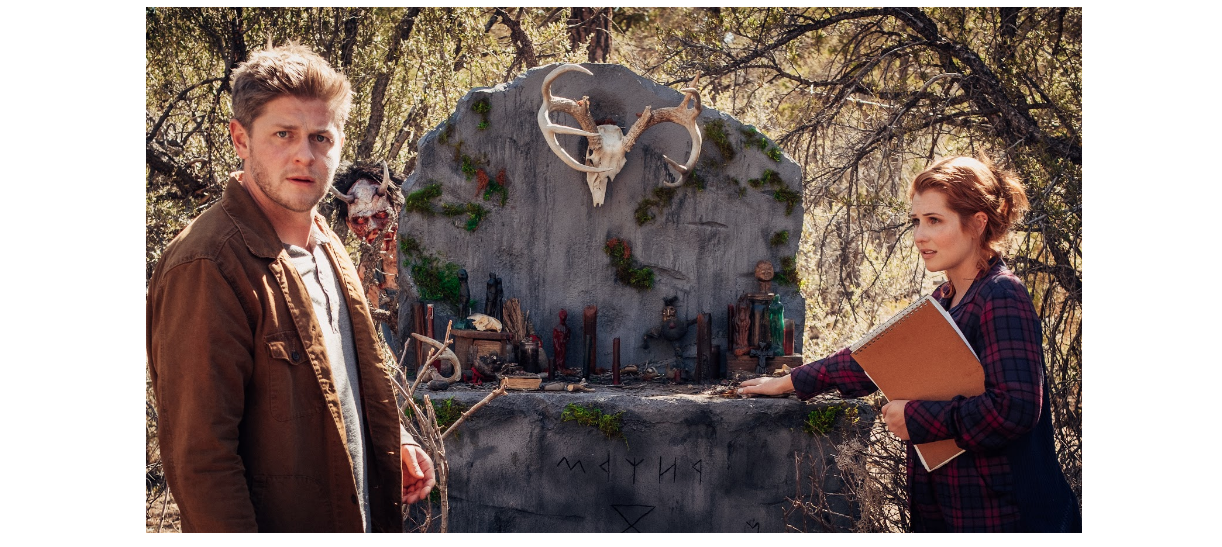 Viewers Explore Interactive VR Narrative Path With 12 Ways to Die and Only One Way Out
Hollywood-based virtual reality (VR) studio Light Sail VR today announced the debut of its first original IP: an interactive VR horror experience "Speak of the Devil." The interactive VR narrative takes viewers on a terrifying camping trip they will never forget–if they survive. With live-action cinematic visuals and game engine-powered interactivity, "Speak of the Devil" brings a dark and sinister twist to the choose-your-own adventure tale in VR and explores a mesh narrative, when a viewer has agency over how they view and experience the story, but not agency over the storytelling itself. With 12 fatal paths and only one way out, viewers are in control of the narrative as they explore the camping grounds and come across different paths that lead them to their bloodcurdling fate.
Speak of the Devil stars actors Michael Grant Terry (Bones, The Archer, Grimm), Taylor Murphy-Sinclair (Fame Dogs) and Mick Ignis (The Sandman, Stan Against Evil, Severus Snape, The Marauders), and was developed in association with Google's Jumpstart program, which connects filmmakers with top production resources to create high-quality original VR experiences.
The VR experience will be available to download for Google Daydream for $2.99. The experience will later be available for Samsung Gear VR, HTC VIVE and Oculus Rift.
When viewers strap on a headset, they are transported to a peaceful, uninhabited camping ground in the middle of a forest where they take on a first-person perspective of a lone camper. As they enjoy a tranquil campfire, they are interrupted by Lindsey (Murphy-Sinclair) and Brian (Terry), a couple setting up a tent within the same camping vicinity. The couple approaches the viewer and discloses that the purpose of their camping trip is to conduct research for Lindsey's Ph.D thesis on lost civilizations, including a lost civilization located within those same woods. As Lindsey and Brian vanish into the trees, Lindsey's infatuation with the the supernatural leads to a discovery that awakens demonic horrors. The viewer is then left to explore the woods and discover the petrifying and unforeseen paths that await them.
Speak of the Devil was shot with the GoPro Odyssey throughout 50 locations in Big Bear, CA, and is one of the first live-action 360 horror experiences to be shot in daylight. The experience and choose-your-own path style narrative leverage the unique viewpoint and capabilities of VR, casting viewers in spine-chilling situations that cannot be communicated in any other medium. Every element of this experience is strategically designed with the audience carefully considered, as it allows them to become a character leading their own story.
With a vast roster of VR thrillers including Paranormal Activity: The Ghost Dimension 360 Seance, The Parksville Murders and ABC's The Offseason, among others, Light Sail VR's creative team leverage their expertise in VR's horror genre in their debut original project. The script was written by Light Sail VR's Creative Director and Co-Founder Matthew Celia, who closely collaborated with Co-Founder and Executive Producer Robert Watts to create a layout that strategically interconnects each narrative path, building a unique experience that places the story and audience first.
The team spent months working in collaboration with Morgan Carlson from The Oberon Group to create a unique interactive video tool set in Unity capable of streaming 8GB of live action stereoscopic 360 footage. This project was also in collaboration with LumaForge Systems, who supplied its high-performance storage services, and Wemersive who provided app development, hosting and streaming.
Credits:
Title: "Speak of the Devil"
Production Company: Light Sail VR
Director: Matthew Celia
Executive Producer: Robert Watts
Writer: Matthew Celia
Story by: Robert Watts, Matthew Celia, Katie Celia
Camera: shot on GoPro Odyssey-courtesy of Google Jumpstart Program
Unity Development: The Oberon Group
App Development, hosting and streaming: Wemersive
Media Storage was sponsored by LumaForge
Makeup and SFX:  Nocturnal Designz
Sound Designer and Composer: Eric Wegener
Stereoscopic Supervisor: Jeremy Vannemen from Treehouse Studios
VFX: Occlusion VFX
Cast:
Brian: Michael Grant Terry
Lindsey: Taylor Murphy-Sinclair
Demon/Cultist: Mick Ignis
About Light Sail VR
Light Sail VR is a Hollywood-based VR production company taking the helm of the evolving field of cinematic virtual reality storytelling. At the entertainment-savvy studio, creative producers and 360 writer-directors collaborate on live-action experiences, bringing compelling narratives, dynamic characters and entrancing visuals to every kind of VR project. From powerful original content to high-profile branded pieces for the likes of Google, ABC, GoPro and Paramount, Light Sail VR's work captivates audiences and garners millions of views on the web.
Experts in this emerging technology, Light Sail VR continues to steer new ways to capitalize on VR's ability to inspire, innovate and engage.