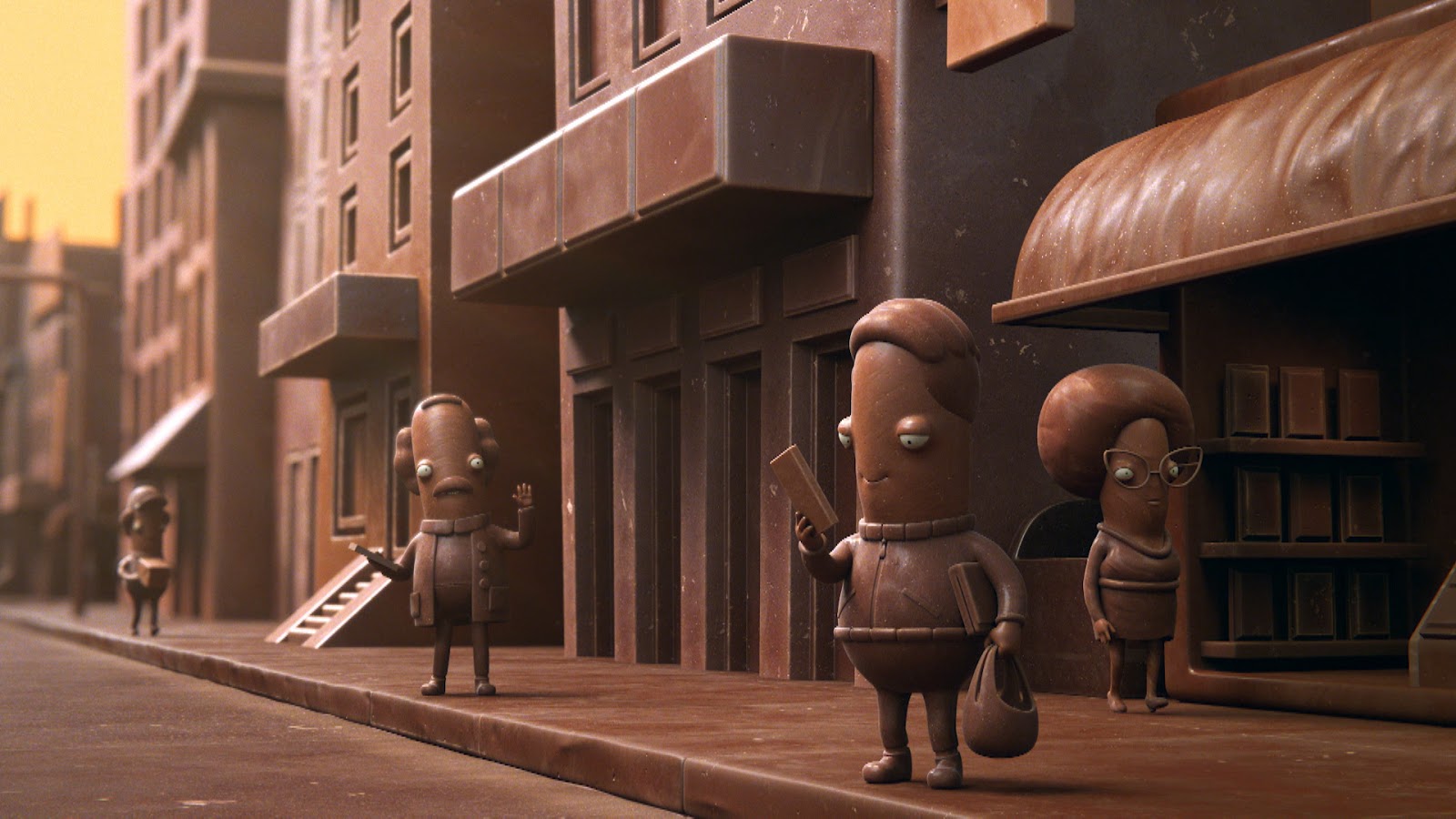 International creative studio LOBO crafts a sugar-coated world in the campaign "Chocolate World" for confectionery company Mondelez's Lacta 5Star, out of Wieden + Kennedy Brazil. In the six spots, the studio animates a cocoa community coexisting in peace, achieving high-profile success in space and beyond, before torrents of extra-terrestrial cookies descend from the atmosphere and wreak graphic cartoon havoc on the citizens below. Each spot ends with caramel-laden tragedy as the camera pans back, revealing that all of the activity actually takes place inside a Lacta 5Star chocolate bar.
LOBO recently applied their two decades of work for a hallmark introductory film for the Annecy International Animated Film Festival, a celebration which this year recognized 100 years of Brazilian animation history. The studio took home from the festival the prestigious Cristal Award for a Commissioned Film for their LeicaM-Monochrom campaign, "Everything in Black and White."
About LOBO
We are LOBO, a creative studio dedicated to moving images. Our expertise covers a broad range of media and techniques, like 2D animation, stop motion, 3D, VFX and live action. Grounded in state-of-the-art facilities and an experienced team of directors, our studio is ready to turn your stories into films.
Founded in 1994 by Nando Cohen and Mateus de Paula Santos while they were still in college, LOBO immediately stood out for its bold style and innovative visual language. We soon grew into one of the major players among the top ad agencies, TV networks and film studios in Brazil. It wasn't long before we expanded our structure to cater to markets all across Latin America, Europe and the USA, raking in plenty of awards along the way from institutions like D&AD, The One Show, Cannes Lions and the Art Directors Club, to name just a few.
To make our North American ties even stronger we opened a satellite office in NYC under the Creative Direction of Guilherme Marcondes, a member of the original LOBO roster who is now back into the fold after a successful solo run in the US that included work for clients such as British Gas, Google, Hyundai, Audi and Pepsi.
Credits:

Title: The Marvelous World of Chocolate
Client: Mondelez
Produto/Product: Lacta 5STAR
Year of Production: 2018
Agency: Wieden+Kennedy São Paulo
Executive Creative Director: Renato Simões, Eduardo Lima
Head of Art: Bruno Oppido
Copywriter: Rafael Melo
Art Director: José Ferraz, Felipe Paiva
RTV/Agency: Regiani Pettinelli, Rafael Messias
Planner: Luana Azeredo, Lais Sangalo
Account: Daniela Glicenstajn Elkis, Vinícius Lopes, Isabelle Garcia, Bianca Olmos
Media: Alexandre Ugadin, Rachid Antun, Lais Folsta, Silvio Serpico
Social Media: Carolina Siper, Emily Rheded, Julia Garcia, Ana Veiga
Client Approval: Natalie Delgado, Adriana Nogueira, Bruna Bertão
Animation: LOBO
Director: Mateus de Paula Santos & Nando Cohen
Account Manager: Thaís Lopes, Márcia Guimarães
CG Director: Maurício Löbel
3D Post Producer: Cintia Miura
Storyboard & Animatic: Marcos Felix Llussá, Wilson F N Panassi, Tony Soares, Chan Tong
Concepts: Marcos Felix Llussá, Wilson F N Panassi, Marcelo Souto, Fernanda Oliver, Alexandre Eschenbach, Márcio Guerra
Modeling: Bruno Saber, Lucas Lira, Guto Sposito, Marcos Smirkoff, Leonardo Rezende, Felipe Bassi, Duda Rodrigues, Natan Zuanaci
Textures: Bruno Saber, Lucas Lira, Natan Zuanaci, Marinho Silva
Rigging: Flávio Castello, Alexandre Cabral, Felipe Gimenes
3D Animation: Stephanie Kajimoto, Daniel "Bahia" Figueirêdo, Victor Dinis, Raphael Vinicius Silva, Jorge Zagatto, Daniel Alvite
Simulation: Lucas Stringhetti, Gabriel Tavolaro, Christye Lira
Render: Marinho Silva, George Damiani  
Composition: Maurício Löbel
Color Correction: Letícia Blanco
2D Animation: Felipe Silva, Estevão Santos, Dênis Milani Adriano
Editor: Herbert Gondo Tachibana
Producer: Priscila Conde
Post Producer: Clara Morelli, Michelle Vinotti, Helena Jardim