Music Video: Miley Cyrus — Mother's Daughter

NEW YORK CITY — Miley Cyrus' new Mother's Daughter video has both social and political messages. The singer offers support to the LBGT community while demanding that those in power don't 'F' with her freedom — or anyone else's.
The video features a simple, pink-hued background that Cyrus dances in front of while wearing a form-fitting, red-vinyl suit. Intercut with her performance is imagery of marginalized individuals from the LBGT community.
Good Company produced the project, which was directed by Alexandre Moors. Moors worked with Cyrus as a creative director on her European tour earlier this spring and felt he was in tune with the message she wanted to convey in this project.
"I think it was an ambitious project in logistics, politics and message," says Moors, noting that the shoot took place in LA over two days.
Approximately eight individuals were flown to LA from across the country to participate in the shoot. The cameos were shot during the first day, leaving the second day to capture Cyrus' performance.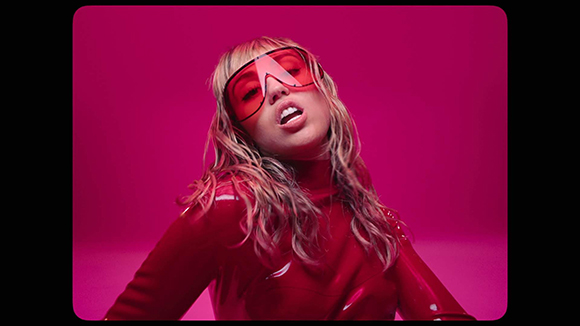 Natasha Braier served as DP, shooting in 3.6K with an Arri Alexa. For the sequences where Cyrus' performance is sped up, the effect was captured in-camera, shooting at 18fps. The quick-motion wide shot was captured at 14fps.
Good Company's Ralph Miccio served as executive producer on the project and headed up post production. The video had a 10-day timeline from shoot to delivery, and as such, Miccio says grading and retouching took place right up until the deadline.
Moors edited the video in Adobe Premiere running on a Mac, cutting in LA, on a plane, and even during a cab ride in order to make the deadline.
"I don't like to share things too early," says the director/editor, who spent four or five days fine tuning the cut. He ultimately caught up with the artist in Europe and showed her the cut in her hotel room just 48 hours before its anticipated delivery.
At the same time, Nice Shoes colorist Ron Sudul flew from Chicago to the company's New York studio to perform the color grade.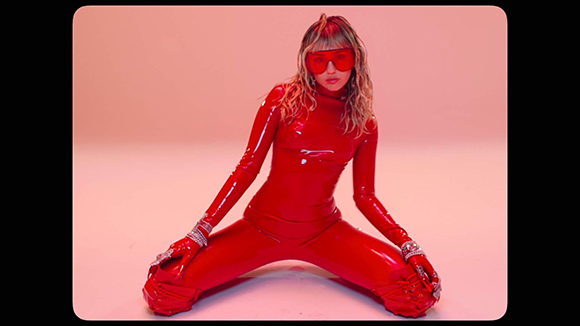 "Alex had a great idea regarding the color palette and got it right on-set," recalls Sudul, who says he spent time dialing in the contrast and brightness, while also working to further enhance the palette overall.
Sudul worked with the raw Arri files and graded the project using a FilmLight Baselight system, doing a basic conform for viewing purposes.
The completed video, which debuted online July 2nd, was delivered in HD.
"I am extremely pleased at how it was received," says Moors of the final release. But like many perfectionists, he wishes he had the luxury of a little more time. So don't be surprised if a director's cut pops up somewhere in the future.
Click HERE to read original article