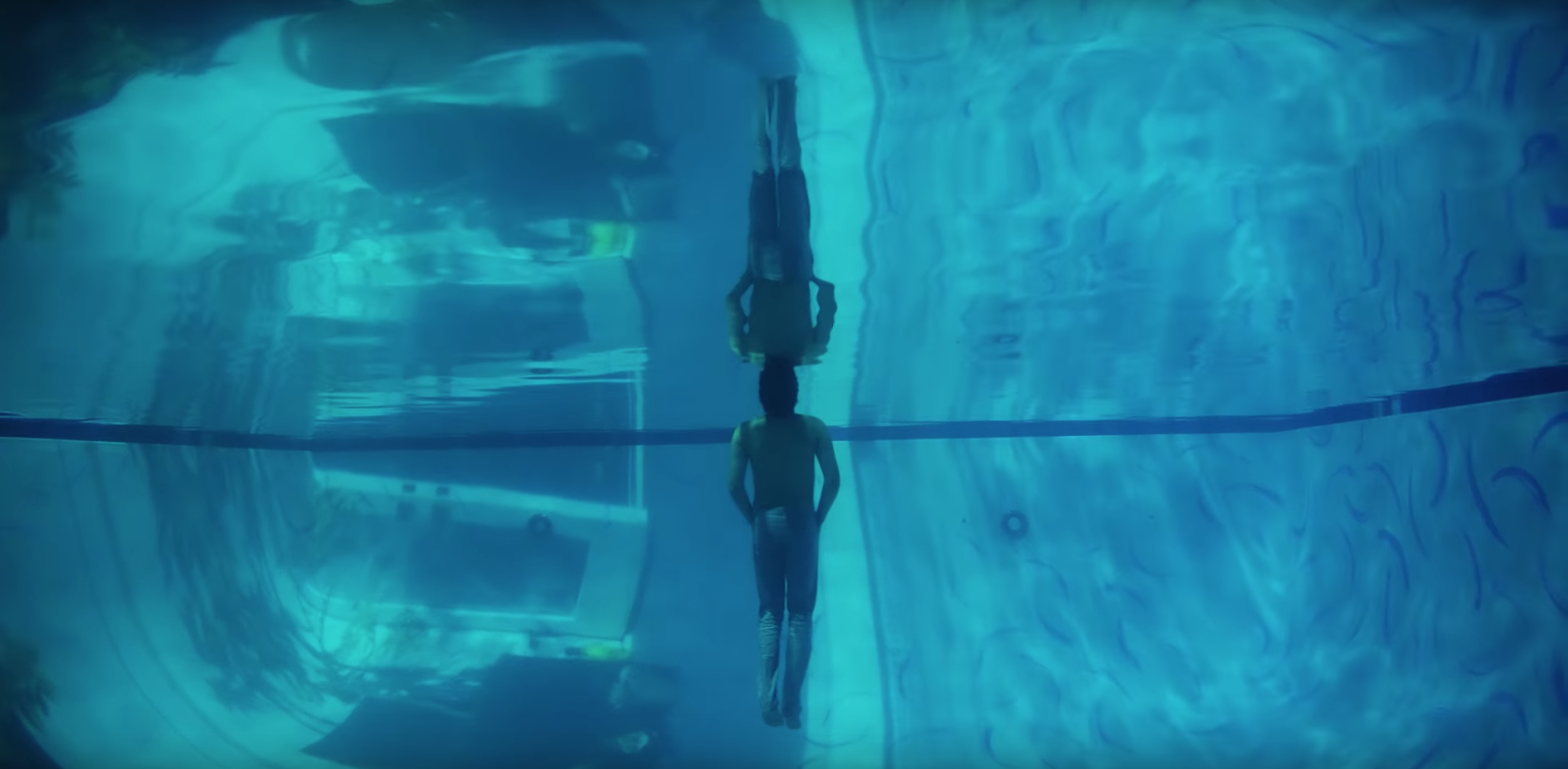 Bicoastal and London production company Park Pictures director Jake Schreier enters a freeing watery world in Francis and the Lights' latest music video entitled, "Never Back." In the transfixing clip, Francis (Francis Farewell Starlite) performs a meditative ritualistic practice in the pool, juxtaposed with the lounge chairs and hammock of the poolside nearby. The song lyrics reference whales who live in the water but still breath air, concluding with the refrain, "We can never go back, tho. We can never go back in time."
As the video opens, Francis stands on his tiptoes in the brilliant water of a Los Angeles pool with only his nose breaking the surface, then descends to stand on the bottom of the pool. Francis' geometric shape is emphasized with a visual of his mirrored body standing and legs rising the opposite way, towards the sky.  The camera pans out at various points to a tranquil scene where Francis lies in a hammock while his underwater self experiments with movement, attempting to conquer his glittering blue environment. The video was shot at The Roosevelt Hotel in Hollywood.
Schreier is a former Francis and the Lights band member and longtime video collaborator. The NY-based band also created the original soundtrack for Park Pictures and Schreier's award-winning Sundance debut feature Robot & Frank.
Credits:
Title: Francis and the Lights "Never Back"
Production Company: Park Pictures
Director: Jake Schreier
Executive Producer: Jackie Kelman Bisbee, Alex Fisch
Head of Production: Anne Bobroff
Producer: Cory Ryder
DP: Shawn Kim
About Park Pictures
Founded in 1998 by Executive Producer Jacqueline Kelman Bisbee and renowned filmmaker/cinematographer Lance Acord, Bicoastal/London-based Park Pictures has an auspicious track record of discovering and mentoring new filmmaking talent and infusing all projects with big screen production values. Park Pictures has forged strong partnerships with agencies and clients by engaging all members of its team in creative problem solving.
Park Pictures has earned the highest accolades for their international work, including an Oscar, an Emmy, and numerous Cannes Lions. Nominated three times, Lance Acord and Park Pictures won the 2014 Emmy Award for Outstanding Commercial for Apple "Misunderstood." Known for their story-driven film work, Park Pictures has been selected for Creativity's "Production Company A-List" for nearly ten consecutive years. In 2015, co-founder Jacqueline Kelman Bisbee was selected for the 2015 Cannes Lions Film Craft jury and Advertising Age's prestigious 'Women to Watch' honor.
After winning an Academy Award in 2010 for the company's first narrative film, live-action short The New Tenants starring Vincent D'Onofrio, Park Pictures founded the Park Pictures feature division, headed by Producer Sam Bisbee, Jacqueline Kelman Bisbee and Lance Acord. Park Pictures Features has produced ten feature films, nine of which premiered at the Sundance Film Festival. Most recently, Park Pictures showcased three films at the 2018 Sundance Film Festival, including the closing night movie Hearts Beat Loud, the Sundance Next Fest program film An Evening with Beverly Luff Linn, and the documentary feature The Sentence. The Sentence especially resonated with attendees and earned the annually-coveted Audience Award. Hearts Beat Loud, starring Nick Offerman, recently sold to Gunpowder & Sky for U.S. distribution and Sony Pictures Worldwide Acquisitions for international distribution, and The Sentence was acquired by HBO for US television and streaming rights.