Stone's Upside-Down Labels Aren't a Mistake. They're the Brewer's First Ad Campaign
The eye-catching stunt highlights its culture of trial and error

Around mid-June, beer lovers browsing store shelves might have seen something odd on the bottles coming from California's Stone Brewing: The labels were upside down.
As you might imagine, fans noticed, wondering if it was a printing error or maybe just some quarantine-era "why not?" approach to keeping things interesting.
In fact, as the brewer announced today, it was a teaser for Stone's first ad campaign, "Leave No Stone Unturned." Created by IPG-owned agency Big Family Table, the campaign takes pride in the craft brewery's culture of trial and error.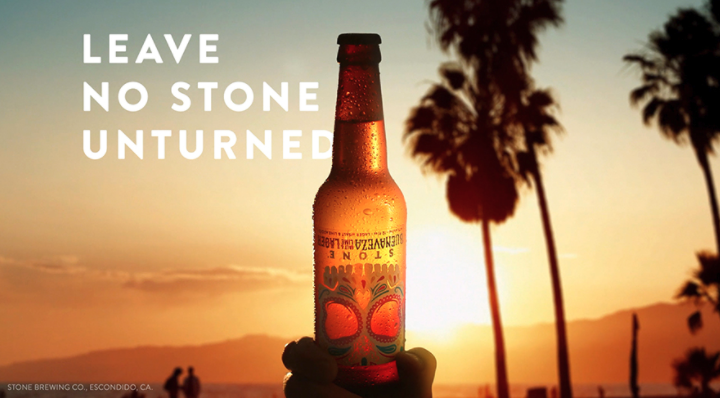 In a (quite charming) video announcing the story behind the upside-down labels, Stone co-founder and executive chairman Greg Koch explains the story behind the labels and the brewery's history of taking risks. Some of those decisions, like being one of the first to champion IPAs, proved incredibly wise, while others ended in failure—such as launching a Berlin brewing facility that had to be sold off in 2019.
"Since founding Stone Brewing in 1996, we've been fortunate to participate in making the craft beer revolution what it is today," Koch said in a statement about the campaign. "Stone enthusiasts have come to expect innovation and collaboration, and frankly it's been our honor to deliver. We're undertaking an ad campaign that we hope will simply remind our fans to both revisit our iconic Stone IPA, as well as to 'unturn' some new Stones and discover our wide range of more recent offerings."
The brand plans to continue printing its bottles with upside-down labels "for the foreseeable future."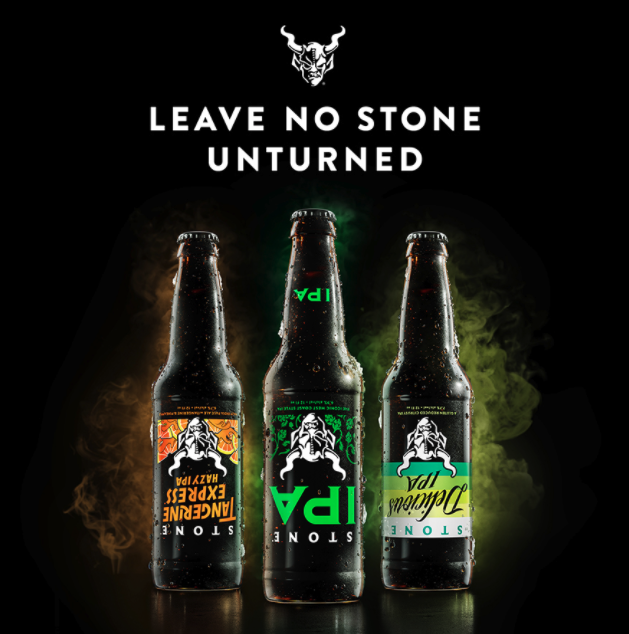 CREDITS:
Client: Stone Brewing
Founder: Greg Koch
CEO: Dominic Engels
CMO: Dan Lamb
COO: Sean Monahan
Director of Marketing: Daven Pierce
Director of Digital Marketing & Loyalty: Danielle Hayman
Director of POS and Merchandise: Victoria Rosales
Senior Marketing Content Specialist: David Pope
Senior Manager, Public Relations: Lizzie Younkin
Senior Production Artist: Aaron Roddick
Agency: Big Family Table
Head of Creative: Guto Araki
EVP, Group Account Director: Chris Carter
Account Director: Lacy Borko
SVP, Executive Integrated Producer: Dan Kaplan
Creative Director: Eric Manchester
Creative Director: Neal Desai
Associate Creative Director: Felipe Machado
Associate Creative Director: Lincoln Lopes
Producer: Geoff Tarr
Account Supervisor: Andrew Haumersen
Executive Business Affairs Manager: Jimmy Gutierrez
Senior Strategist: Ravi Jayanath
Production & Post Company: LOBO
Directors: Mateus Santos & Joao Tenorio
Executive Producer: Luis Ribeiro & Francisco Puech
Head of Production: Clara Morelli
Producer: Pablo Zurita
Director of Photography: William Etchebehre
Editor: Pedro Falcone
VFX Supervisor(s): Leandro Pena, Diego Denardi & Olavo Chagas
Audio Post Company: Lime
Audio Engineer: Mark Meyuhas
EP: Susie Boyajan
Licensed/Composed Music, Credits and Track Info:
Composer: Massive
Read the original article: HERE