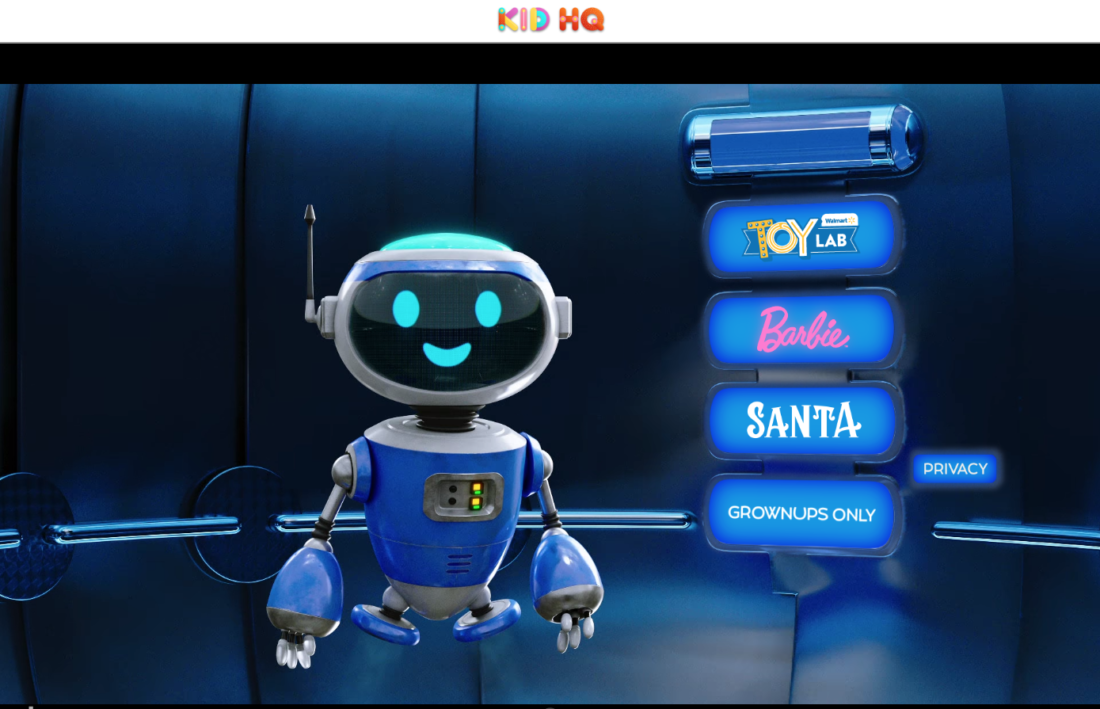 With branded experiences from Walmart, and Mattel, KidHQ reinvents holiday shopping for families
NYC-based creative agency Technology, Humans and Taste (THAT) teamed up with the leader in choice-driven entertainment, eko to transform holiday shopping with "KidHQ," an interactive, branded video experience for the holiday season and beyond. KidHQ invites kids to a multi-floor digital headquarters to test the latest and greatest toys of the holiday season and create wishlists that parents can seamlessly shop on a specially designated "Grown-Ups Only Floor." THAT served as the creative agency for KidHQ, designing an experience poised to revitalize both the retail and entertainment spaces. KidHQ is an original entertainment destination featuring brand-funded experiences from Mattel and Walmart and is now available for kids and families to enjoy HERE. 
With its interactive play and shoppable elements, KidHQ leads a new frontier in brand-sponsored entertainment. The unique interactive platform offers brands the opportunity for kids to interact with their products within a digital ecosystem, created with their viewing habits in mind. THAT carefully designed KidHQ as a premium digital play experience that lets kids break down the 'fourth wall' of traditional ad campaigns with immersive entertainment.
At KidHQ, kids are given the chance to become toy testers and discover which of this season's hottest toys are the most fun to play. Participants can explore interactive features including:
Funtroller:

Kids explore toys and choose the ones they want to play with, creating an epic unboxing experience they can control.

Funovator:

Kids can explore 'floors,' each original entertainment experiences, featuring:

Walmart Toy Lab: Kids can check out the hottest toys and test them for 'funness,' featuring products available at Walmart.

Meet Santa: A virtual trip to the North Pole, kids can meet Santa and interact with animated and live action characters in a special holiday experience.

Barbie Dream Floor: Kids can help Barbie build a vlog in this experience from Mattel.

Toy Report:

At the end of the experience, kids can create a wishlist that helps parents see the toys that have made it to the top.  

Grown-Ups Only Floor:

This special floor transforms the Toy Report into a seamless click-to-shop experience for parents, powered by eko's entertainment joint venture with Walmart.
Accessible from a mobile phone, tablet or computer, viewers click or tap prompts that appear on the screen to choose what happens and where to go next. Eko's technology provides uninterrupted interactive video throughout, allowing a smooth choice-driven experience fun for kids and adults alike.
The Walmart Toy Lab, created by Walmart and eko, is part of the KidHQ experience this year. After announcing a joint venture last year, eko and Walmart are partnering on a slate of interactive fiction and non-fiction series. 
"The eko platform allows actual world-building for brands," says THAT CCO Nathan Phillips. "KidHQ is an immersive and safe, free-play experience for kids to explore. It's pure entertainment that connects parents seamlessly to a holiday shopping experience that doesn't exist anywhere else."
KidHQ is presented as an eko original, created by THAT, and produced by BuzzFeed, the world's leading independent digital media company. Together, eko and BuzzFeed have also made an interactive version of the Tasty recipe brand, along with interactive quiz videos and other choice-driven content. 
About eko
eko is a pioneering interactive entertainment company that lets audiences shape stories as they unfold. eko's technology allows viewers to affect, control, and influence interactive entertainment like never before. The company provides a platform for interactive stories and partners with media companies, independent creators and top brands to create deeply engaging experiences for audiences. Stories are distributed through Helloeko.com, affiliate partners, and social networks; available on desktop, mobile, and connected devices. The company has over 15 patents for its technology, including its proprietary player and authoring tools. eko Studio, the company's suite of authoring tools, is also offered for free to a community of creators who craft their own interactive experiences using eko's platform.
For more information, visit www.helloeko.com.
About Technology, Humans And Taste
Technology, Humans And Taste (THAT) is a creative company in New York City focused on telling stories in new ways. Using their proprietary methodology, THAT collaborates with outsiders to create unexpected solutions to the most persistent problems of big and small brands.