International production company Park Pictures director Savanah Leaf and Park Pictures executive producer Cody Ryder shed light on the dangerous lack of health and safety standards for incarcerated individuals during the COVID-19 crisis in "#WeMatterToo", an animated PSA created in partnership with the Anti-Recidivism Coalition (ARC) and Imagine Justice. 
Part of the larger #WeMatterToo campaign of the same name, the short features interviews from current inmates discussing their frightening real experiences living through the outbreak, recounting the lack of social distancing measures and other necessities like masks, sanitizers and more. In close quarters, the subjects understand that an outbreak of COVID-19 in any jail would spread "like wildfire." The animations blend a monochromatic palate with bold stylized imagery of inmates suffering under living conditions reflected in the interviews, driving home the severity of the situation in graphic detail.
"The last line you hear in the PSA is, 'Every sentence shouldn't be a death sentence.' For me, the statement is a powerful summary of the entire point," notes Leaf. "Other people often speak on the behalf of incarcerated citizens, and their voices aren't heard. At a time like this, where people remain in their homes, it's important to reach them with the truthful experiences of others in need."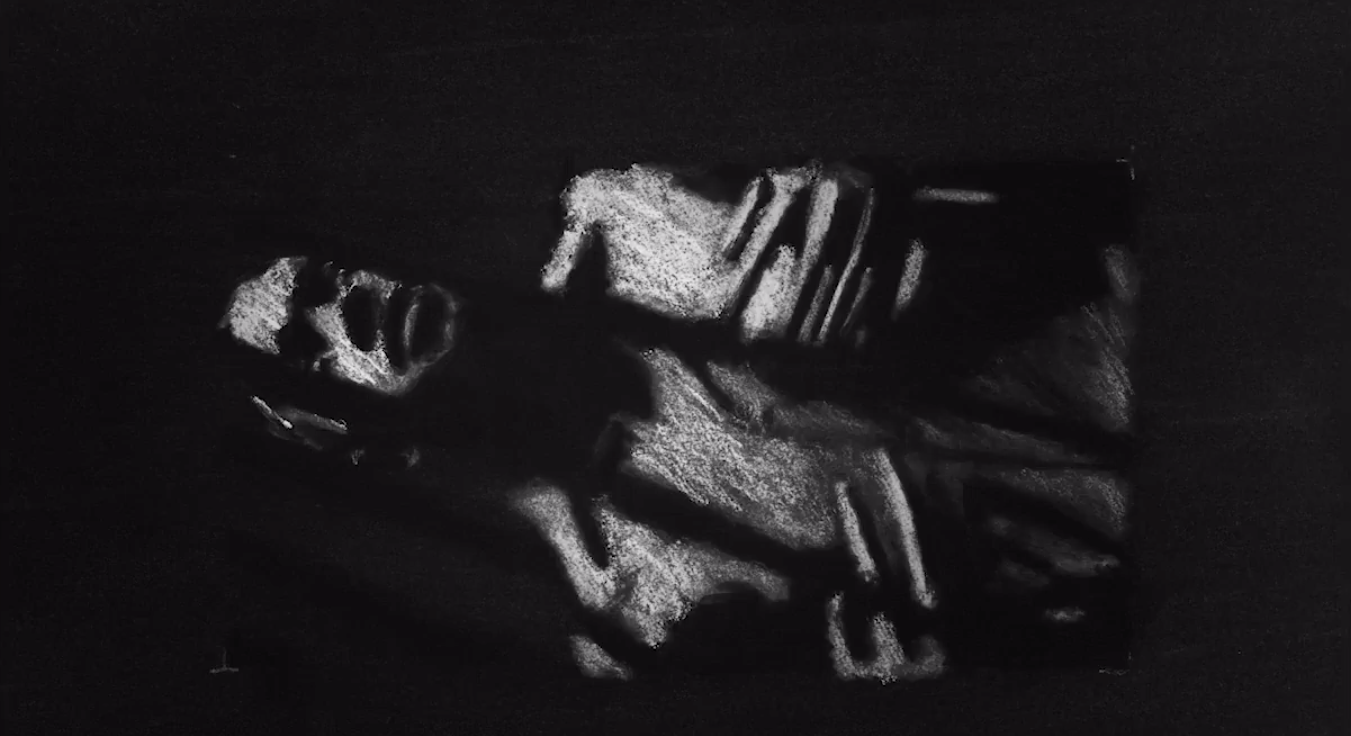 After Leaf's work directing the Common ft. Daniel Cesar music video "HER LOVE", Imagine Justice reached out to Leaf to lend her trademark creative style to a broader original PSA. However, once the coronavirus crisis took root, Imagine Justice, ARC and Leaf pivoted their campaign to address a more timely issue: the lack of attention paid to jailed citizens who stand to contract and spread the virus far more easily due to their close quarters. Given social distancing limitations, Leaf connected with defense attorneys and orchestrated phone calls with as many inmates as possible, across approximately ten states, to ensure their voices were heard and featured first. 
Leaf connected with the animation directors at ArtCamp to pair visuals as dramatic as the interviews, a charcoal-esque sketchy style that lent itself both to the raw subject matter of the PSA and to the fast turnaround required for the work. Without the inmates physically filmed for context, the animation took the tenor of the interviews and enhanced the emotions behind each account.
#WeMatterToo comprises 39 activist organizations and will feature dialogues with Kamala Harris, Ayanna Pressley, and Common, among others. Devastating statistics highlighted in the campaign include an Ohio prison where over 70% of inmates have tested positive for COVID-19.
Prison sentencing reform is a related topic Park Pictures' films have powerfully addressed recently. The company developed and produced the HBO Sundance Audience Award and Primetime Emmy Award-winning documentary 'The Sentence,' directed by Rudy Valdez, which highlights the injustice of mandatory minimum sentencing. According to the Washington Post, the film was shown to various key members of Congress and helped spur passage of the First Step Act aiding nonviolent offenders. In the film, Valdez tells the story of his sister, Cindy Shank, a mother of three who was convicted to a shattering minimum of 15 years in prison for crimes committed by her ex-boyfriend. "The Sentence" is said to "do for unjust sentencing what "An Inconvenient Truth" did for climate change," according to the Washington Post.
Credits:
Directed by Savanah Leaf
Voiceover by Common
Executive Producers for Imagine Justice: Common and Michael Latt
Executive Producers for Park Pictures: Jackie Kelman Bisbee and Cody Ryder
Animations Made at Art Camp
2D Animation and Design: Britton Korbel 
3D Animation and Design: Matt Knudsen 
Shot Design and Storyboards: Mac Ross 
Sound Design by Simon Carroll
Additional Editing by Arianna Tomasettig
About Park Pictures
Founded in 1998 by Executive Producer Jacqueline Kelman Bisbee and renowned filmmaker/cinematographer Lance Acord, bicoastal/London-based Park Pictures has an auspicious track record of discovering and mentoring new filmmaking talent and infusing all projects with big screen production values. Park Pictures has forged strong partnerships with agencies and clients by engaging all members of its team in creative problem solving.
Park Pictures has earned the highest accolades for their work, including an Oscar, three Emmys, and numerous Cannes Lions. Park Pictures won the 2014 Emmy for Outstanding Commercial for Apple "Misunderstood," the 2019 Emmy for Outstanding Commercial for Nike "Dream Crazy," and the Emmy for Exceptional Merit in Documentary Filmmaking for The Sentence. The company the Cannes Lions Palme d'Or in 2019, the highest honor production companies can receive.
After winning an Academy Award in 2010 for the company's first narrative film, live-action short "The New Tenants" starring Vincent D'Onofrio, Park Pictures founded the Park Pictures feature division, headed by Producer Sam Bisbee, Jacqueline Kelman Bisbee and Lance Acord. Park Pictures Features has produced ten feature films, nine of which premiered at the Sundance Film Festival. Most recently, Park Pictures showcased three films at the 2018 Sundance Film Festival, including the closing night movie Hearts Beat Loud, the Sundance Next Fest program film An Evening with Beverly Luff Linn, and the documentary feature The Sentence. The Sentence earned the annually-coveted Audience Award and was acquired by HBO for US television and streaming rights. Hearts Beat Loud, starring Nick Offerman, sold to Gunpowder & Sky for U.S. distribution and Sony Pictures Worldwide Acquisitions for international distribution.