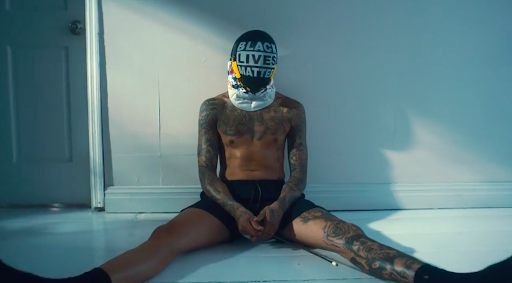 The Leader in Plant-Based Chicken Kicks Off Daring Moves Celebrating Olympian, Miles Chamley-Watson, and Other Individuals Challenging the Status Quo.
Daring Foods, the leader in plant-based chicken whose mission is to rethink and replace the animal chicken from our food system, announced today the launch of their latest platform, Daring Moves. As a brand that's committed to taking on an outsized challenge and effecting positive change, Daring Moves is a way for the company to express its support for others doing the same across a wide variety of domains. The platform launches with Olympic Bronze Medalist and World Champion, Miles Chamley-Watson, a fencing athlete known for challenging the status quo in and outside of his sport. Additionally, Daring Moves showcases a cast of trailblazers and the nontraditional approaches they're taking to leave the world better than they found it. 
The centerpiece of the launch is a docu-style film and photo series featuring Miles Chamley-Watson. From challenging conventions in fencing to making moves in the fashion industry, Miles Chamley-Watson has consistently forged his own path in his career. This film is produced by Honor Society and directed by Molly Shiot, acclaimed director and creator of "The Unsung Heroines," and the photos were shot by esteemed photographer Raven B Varona, who's worked with the likes of Beyoncé and Nike.
"I am honored to partner with Daring on this initiative and to help bring attention to pioneers creating change in their communities," said Miles Chamley-Watson. "What inspires me about working with Daring is that we have the exact same mindset and morals. We want to do more than disrupt our respective spaces – we want to change them completely. It's the absolute perfect match and this is just the beginning."
"Daring Moves is rooted in our mission to be unapologetically ambitious, unconventional and daring in realizing the change we want to see in the world," said Ross Mackay, CEO & Founder of Daring. "Miles exemplifies that spirit every move he makes by breaking boundaries and working to create new norms in the world of fencing. We couldn't have chosen a better person to launch this platform. And we're excited for the world to meet these daring people." 
While Daring is focused on disrupting an industry that is unsustainable and destructive to our feathered friends and health, its partners' missions encompass a range of causes. The partners featured in this Daring Moves campaign include:
Alex Taylor:

Founder of

Hoop York City

, a women's basketball committee dedicated to closing the gender pay gap through community driven initiatives and networking opportunities for women. 
Alexis Mena

: Co-founder, lead farmer and creative director of

Universe City NYC

, an aquaponic and urban farm business incubator space

redefining the importance of building a strong economy around our community by emphasizing agriculture, social enterprise, and community healing practices.

Frank Mena

: Director of community affairs for

Mastermind Connect

, a

men's collective empowering progressive men of color to realize deep connections with their passions, higher self and community.
relief non-profit working to make veganism accessible to communities in need.
Michelle Tran

: Founder of

Soar Over Hate

, a New York City based non-profit that equips AAPI resistance to hate crimes through personal safety devices, encourages community advocacy among youth and offers healing from racial trauma through the Heal From Hate Therapy Fund. 
This platform marks the beginning of Daring's ongoing commitment to support daring individuals through storytelling, features and donations.
Daring Moves is now live and can be explored at daringmoves.com. For more information on Daring Foods, visit Daring.com and follow the brand on Instagram at @daringfoods.
Credits:
Client: Daring Foods
Founder & CEO: Ross Mackay
Head of Entertainment Partnerships & Experiential: Jessica Zhang
VP, Creative Director: Jeff Samson
Associate Creative Director: Ellis Sant'Andrea
Senior Copywriter: Kristin Cubbison
Creative Producer: Alex Doty
Talent
Himself – Miles Chamley-Watson
Background #1 – Dupree Porter
Background #2 – Marie-Kaniyah Porter
Background #3 – Maximilian Piazza
Production Company: Honor Society
Director: Molly Schiot
Founder/Managing Partner: Megan Kelly
Head of Production: Carlo Pilgrim
Producer: Mikha Grumet
Production Supervisor: Madia Hill Scott
Production Supervisor: Judy Yem
1st AD: Otis Fung
2nd AD: Henriette Ohno
Asst. Production Supervisor: Paige Brott
Director of Photography: Zoë Simone-Yi
1st AC: Max Batchhelder
2nd AC: Helen Cassell
Steadicam: Tanner Carlson
Gaffer – Shoot: Tamu Bakr Jr.
Gaffer – Tech Scout: Tamura Bakr
Best Boy Electric: Corey Fontana
Key Grip: Rashad Clinton
Best Boy Grip: Antonio Jamirez
Prop Master: Gabrielle Rosenberg
Stylist: Alicia Sereno
Wardrobe Assistant: Dwayne Adams
Hair & Makeup: Shannon Young
Location Manager: Rik Nagel
Sound Mixer: Tony Starbuck
Boom Operator: Jeanne Gilliland
VTR Operator: Lee Hopp
Medic: Sean Colgan
COVID Compliance Manager: Reggie Thomas
PA – Truck: Johnny Guevara
PA – Truck: Max Vital
PA – Driver: Jarmal Harris
PA – Driver: Shady Kerko
PA – Driver: Gregory Ramirez
PA – Driver: Jesse Singleton
PA – Set: Wairiuko Banfield
PA – Set: Marina Sulmona
PA – Set: Asher Fritz
PA – Set: Max Boie
Stills Photography
Photographer: Raven B. Varona
Management: Ramya Velury
Digitech/1st Assistant: William Aczona
Stills Assistant: Madeleine Dalla
Stills Assistant: YC Dong
Editorial: BANDIT Edit
Editor: Peter Sabatino
Assistant Editor: Chris McNinch
Post Producer: Doris Boroje
Audio Post: Mr. Bronx
Mixer: Geoff Strasser
Color: Framestore
Colorist: Beau Leon
Original Music: Lauren Culjak
ABOUT DARING
Daring is the leading plant-based chicken brand, founded with the mission of removing chicken from the global food system. Backed by global celebrities like Drake and Naomi Osaka, the award-winning brand is widely available at national supermarkets like Whole Foods, Walmart and Kroger, independent retailers and online markets. For vegetarians, vegans and carnivores alike, Daring is a true 1:1 substitute for chicken that doesn't compromise on taste or texture. 
Daring offers plant-based chicken pieces seasoned in four flavor-packed signature spice blends including Original, Lemon & Herb, Cajun and Breaded. The plant-based chicken is made with simple, natural ingredients and looks, cooks and tastes like its animal-based counterpart. Daring is non-GMO and high in protein, with 10-14g of protein per serving.