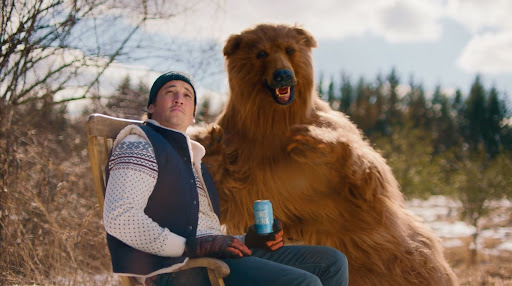 Agency Technology, Humans And Taste (THAT) and Honor Society directing duo Cary & Jon bare (and 'bear') all for The Finnish Long Drink in a series of spots ranging from the precious to the provocative and beyond. 
In one of the seven spots, Top Gun: Maverick actor Miles Teller–also an investor in the company–makes fast friends with a bear deep in the Finland wilderness, bonding over their shared love of fishing, honey, dancing and, of course, a Long Drink. In others, couples learn the dangers of grabbing a "quick drink" in unknown locales like abandoned dive bars and packed fintech haunts, in lieu of enjoying themselves with a slower-paced and delightfully Finnish Long Drink. 
The collection in total embraces brand whimsey and its Finnish origins, leaning into common country stereotypes and irreverent humor made commonplace in ads directed by award-winning directors Cary & Jon.
Click HERE to view the spots.
Cary & Jon's work has been recognized with multiple projects short-listed at Sundance Film Festival, SXSW, Cannes, Webby Awards and FWA, among others. These include their award-winning feature films "Becky", which premiered at the Tribeca Film Festival, "Bushwick", which premiered at the Sundance Film Festival, and "Cooties", which premiered at the Sundance Film Festival and was distributed by Lionsgate. Their tongue-in-cheek comedy touch has graced ads for TGI Fridays, Mountain Dew, Tylenol, Comcast, and more, for agencies including BBDO, Edelman, Goodby, Silverstein & Partners, Publicis, Leo Burnett, Wunderman, Mullen, and JWT. They've been fortunate enough to work with some of the top talents in the worlds of comedy, action, and drama while developing a distinct visual style and approach to humor.
Credits:
Client: The Long Drink
VP Marketing: Danny Mandelbaum
Agency: Technology Humans and Taste (THaT)
Company: Technology, Humans And Taste
Co-founder: Nathan Phillips
Co-founder: Dave Kalvert 
Creative Director: Tiffany Appleton
Creative Director: Kirstin Roquemore
Executive Producer: Andrew Runkle
Director of Talent and Operations: Christine Austin
Senior Program Lead: Cassie Hice
Strategy Director: Lani Dourado
Visual Artist: Justin Pearlman
Designer: Mizuki Tsujikawa
Production Company: Honor Society
Directors: Cary + Jon 
Founder / Executive Producer: Megan Kelly
Line Producer: Robbie McNamara
Service Company: Sparks Productions
DP: Mat Barkley
1st AD: Derek Robinson
Production Designer: Aaron Smith
Editorial Company: Wax.tv
Editor: Alex Pirrone
Assistant Editor: Drew Neuhart 
VFX
Compositor: James Pina
Animator: Paul Fiterson 
COLOR
Colorist: Sean J. Henderson
MUSIC SUPERVISION
Company: Soul Captain Music
Music Supervisor: Karl Westman
AUDIO MIXING
Mix Engineer: Michelle Madias
About Honor Society
Honor Society is a fully integrated production company telling stories with passion, bravery, and intelligence, no matter the style, technique, or medium.