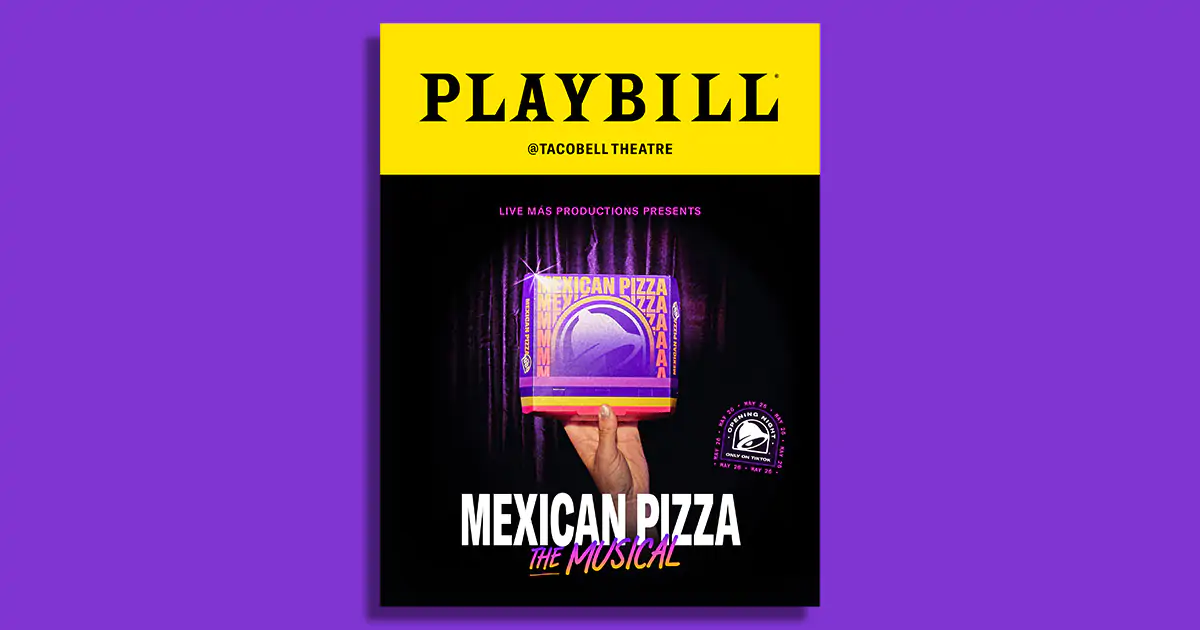 Looking to welcome back its Mexican Pizza with some pizzazz, Taco Bell is giving its fans dinner and a show.
The chain is creating what it describes as an "off off-Broadway" musical starring Mexican Pizza megafan Doja Cat and country icon Dolly Parton. The satirical show, produced by Live Más Productions, tells the story of how a group of Taco Bell fans fought to bring back the Mexican Pizza. The production is titled Mexican Pizza: The Musical, and will premiere exclusively on TikTok on May 26 at 8 p.m. ET.
The return of the Mexican Pizza has been in the cards for some time now. Doja Cat has publicly demanded the return of the menu item for a couple of years. She also created a song on TikTok promoting her love for the refried bean-filled dish. When the chart-topping rapper partnered with Taco Bell for its Super Bowl spot this year, a bumper sticker Easter egg with the phrase "I still want my pizza" was featured on the back of the clown car driven by Doja Cat.
The power of the crowd
The musical was written by Hannah Friedman with music by Grammy-winning songwriting duo Abigail Barlow and Emily Bear, who already have a TikTok hit with Bridgerton: The Musical. Also set to star in the musical is Victor Kunda, who went viral on TikTok with an interpretation of what a Mexican Pizza musical rehearsal could look like.
Kunda's presence continues Taco Bell's focus on relying on fan and social engagement for creative ideas. The brand used fan submissions to guide its recent Nacho Fries campaign.
"It's the future," Taco Bell chief brand officer Sean Tresvant told Adweek in March, on crowdsourcing ideas. "It's the consumer who owns the brand, right? How you engage the consumer in your brand will become more and more important for brands to think through."
May is essentially Mexican Pizza Month for Taco Bell. The menu item is returning nationwide May 19, with Taco Bell Rewards members gaining early access starting May 17.
The menu item was dropped from the Taco Bell menu in 2020 as part of a streamlining process. Its competitor in the Taco category, Del Taco, poked fun at the news last year.
Will a new star be born?
"Our menu is full of fan favorites, but the Mexican Pizza is at the top of that list," said Taco Bell CEO Mark King in a statement. "From its flashy introduction to menus in 1985 as Pizzazz Pizza, to its inspiration behind the creation of infamous jingles, Mexican Pizza has a long history with the brand and I'm glad we could give fans what they crave and bring our classic Mexican Pizza back home where it belongs."
It isn't often that QSRs stage musicals. However, it has happened once before. Carl's Jr. staged an off-Broadway show to celebrate the opening of it's first Manhattan location in January 2018. The Carl's Jr. mascot, Happy Star, starred in the production as a struggling New York actor who finds his true passion once he steps into the kitchen. Though the musical was fun, according to an Adweek staffer who attended the one-night-only show, Carl's Jr. closed its lone New York location within five months.