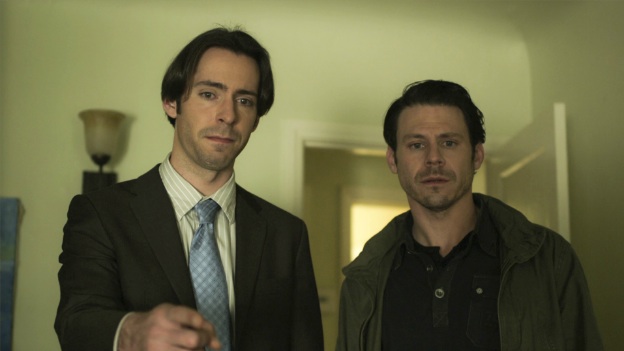 New York-based creative boutique and post house Goodpenny composer Andrew Hollander and writer/director Blayne Weaver dive fearlessly into bachelor life in 6 Month Rule, premiering at the 2011 Austin Film Festival October 20-27.  Hollander composed the score and co-wrote two original songs ("Maybe I" and "Silver Penny") with Brookyln-based singer/songwriter Christian Gibbs.  The film revolves around a bachelor who follows a set of rules in order to avoid emotional attachment, the most important being: there is no woman so perfect that you can't get over her in six month.
The film delivers a romantic, charming, and poignant look at relationships, seen from the eyes of Tyler, who lives by a philosophy that allows him to avoid making any significant connections with women.  He frequently boasts that he can get over a woman in six months or less, but this is mostly due to his fear of emotional attachment.  His best friend has just become Tyler's main project, as he tries to teach his buddy all about the joys of cold-hearted bachelorhood.  However, when he keeps bumping into a fascinating woman, he discovers that no philosophy is set in stone.
About Goodpenny
Goodpenny is an evolutionary artist-owned creative boutique and post house complimented by an amalgam of talent: award winning editors, vfx artists, designers, composers and creatives who have integrated into one space to produce content and deliver and uncompromised full service client experience across any and every channel.
From television to commercials, broadcast TV, film, branded content and online video, to digital and interactive implementations, viral and more.
If it can be done, we can do it.  If it can't be done, we'll find a way to do it.
 Credits:
Production Company: Secret Identity Productions
Production Company: Steakhaus Productions
Writer/Director: Blayne Weaver
Executive Producer: James Ballengee
Co-Producers: Kendrick Hudson, Dominic Ottersbach, Silver Tree
Producers: Brandon Barrera, Steak House
Original Music: Andrew Hollander
Cinematography: Dan Stoloff
Editing: Abe Levy
Casting: Lauren Bass
Production Design: Michael Fitzgerald
Set Decoration: Siobhan O'Brien
Costume Design: Sarah Trost
Makeup: Chrissy Morris