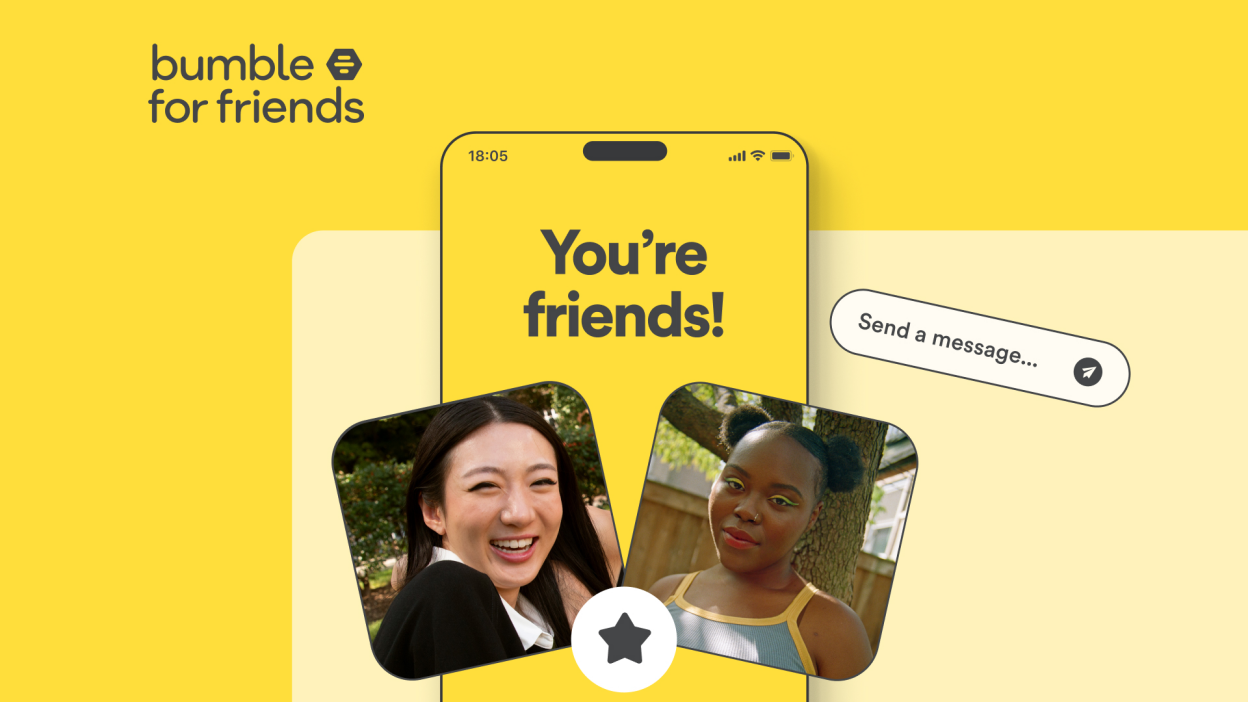 Courtesy: Bumble
Following news last month that Bumble was testing a standalone app for Bumble BFF, the company announces today that Bumble for Friends will be its own friend-finding app.
Since 2016, Bumble has had three branches available: Date, BFF, and Bizz (for networking purposes). Now, BFF will spin off into Bumble for Friends. The app where women (and nonbinary people) message first will be home to Date and Bizz.
Gen Z especially knows the value of friendship, according to research of around 2,000 UK adults. Almost half (47 percent) of UK 18-24 year olds believe that platonic relationships are more important than romantic relationships. The trouble, however, is finding them: 44 percent find it difficult to make friends. Over a quarter, 28 percent, find it difficult to approach people in person.
In both the UK and U.S., loneliness is a problem — and the pandemic certainly didn't help. In the former, 49 percent of adults reported feeling lonely occasionally, sometimes, often, or always. Meanwhile, in the U.S., social isolation increased 24 hours per month from 2003 to 2020, while companionship declined 14 hours per month.
"With feelings of loneliness and isolation at an all-time high, now more than ever is a time to prioritise self-love and friendships for our well being," said Bumble founder and CEO Whitney Wolfe Herd in a press release. "Having a dedicated Bumble For Friends app that's separate from the dating experience makes friendship-finding easier for people looking to make meaningful platonic connections in their area."
"People are more open to making friends online than ever before," Herd continued. "In fact, in a recent Bumble For Friends survey, over a third of Gen Z respondents in the UK shared that making new friends online lessened their loneliness."
Bumble BFF mode was the answer to a need from people looking for something beyond romantic connections, Bumble's chief brand officer, Selby Drummond, told Mashable. Since then, they heard feedback from users who want to meet others, but not necessarily download the full Bumble app.
"We knew a standalone app was an important next step," Drummond said.
How does Bumble for Friends work?
Once you download the app (which is free and available on the App Store and Google Play in the U.S., UK, Canada, Australia, Ireland, New Zealand, and the Philippines for now), create a profile as you would on Bumble Date or other social networks. Share photos and your interests, and what kind of friends you want to meet.
If you're already using BFF mode, you can migrate your profile and connections into the new app so you can skip the set-up. Once you migrate over, BFF mode is no longer available in the Bumble app.
Bumble for Friends employs a similar swiping experience as Bumble Date. Additionally, users will be able to plan group outings in the app.
"For the first time, Bumble for Friends will help people go beyond matching with friends 1:1 to help people plan group meet-ups around shared interests and activities," Drummond said.
Any member can plan a group meet-up with at least two of their connections. Select a planned activity from a list of suggestions, or create your own.
Once you select or create a plan, invite at least two matches. Matches receive an invite titled the name of the planned activity (which can be edited). Anyone who accepts joins the group chat to discuss meetup details.
Drummond and the Bumble team are excited to give friend-finding the space it deserves.
"Bumble has been at the forefront of dating online becoming mainstream, and we've seen how BFF mode has helped so many people form platonic friendships," she said. "With the issue and symptoms of loneliness growing at a rapid rate, we're hopeful that by offering people a safe space to meet and connect, we can help make the world a little lighter."
Read the original article HERE.