72andSunny teams up with LOBO and Surreal Hotel Arts to present some earworms to leave you 'absolutely melted'.
Tillamook reunites hungry listeners with Vol. 2 of their cheesy "Block Jams"–the album inspired by cheddar–just in time for fun in the sun, out of agency 72andsunny. Produced by LOBO and Surreal Hotel Arts, the fun-in-the-sun edition includes catchy tunes like "Waves of Flavor", "Cheese By The Slice", and other earworms to leave you "absolutely melted".
Directed by Oriol Barberà, Tillamook once again partners with musicians and influencers including @cartervailmusic, @rappingchef, and @graceorsomething for the package deal and personal music video previews. Sadly, the album is not sold in stores, but the inspiring source materials can be grabbed before they're gone from the refrigerator section.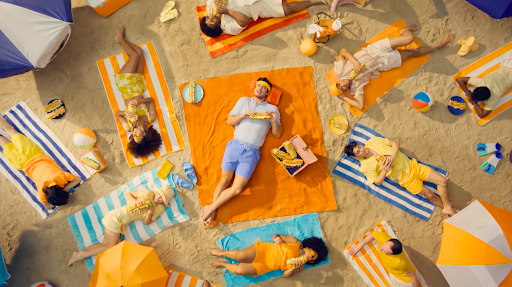 Credits
Agency: 72andSunny
Executive Producer: Jennifer Cursio
Agency Producer: Carina Reimers
Creative Director: Tim Wolfe, Ryan Dols
Creative Team: Isabella Caruso, Sydnie Johnson
LOBO
Executive Producer: Luis Ribeiro
Director: Oriol Barberà (Surreal Hotel Arts)
Director of Photography: Tristan Sheridan
Executive Producer Live-Action: Paul Amorese
Lobo Coordinator Otto Goldstone
Production Manager: Nicole Ebeo
Production Coordinator: Rose Caraet
Line Producer: Tina Nakane
1st AD: Peter Novitch
Production Designer: Kai Boydell
Gaffer: Nick Ostrovsky
Key Grip Eric Mutz / Jason Wiest
Food Stylist: Julie Hopper
Wardrobe Stylist: Ashley Chako
Choreographer: Ryan Spencer / Melissa Schade
Hair & Makeup: Melvone Farrell / Stella Tzanidakis
Casting: Face in the Crowd Casting
Head of Production: Clara Morelli
Head of Post Production Marcelo Barbosa
Producer: Pablo Zurita
Post-Production Coordinator : Rosangela Gomes
Post-Production Producer: Karen de Moura
Compositing Supervisor: Carlos Campos
Compositing Artist: Carlos Campos / Rodrigo Vec / Gassan Abd Abdouni
Rotoscope: Carlos Campos / Rodrigo Vec / Gassan Abd
Abdouni
Motion Graphics Artist: Marcos Chaves / Carlos Campos
Ingest / Conform / Delivery: Marco Tavares / Isabela Balbo / Fabio
Augusto
SURREAL HOTEL ARTS
Executive Producer: Ale Borzani
CCO: Carlão Busato
Head of Search Department: Bruno Cerqueira
Creative Assistant Director: Andrea Voltarelli
Key Placements: shots.